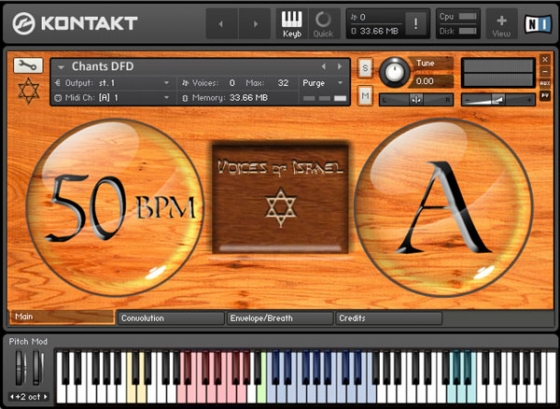 Sonokinetic Voices Of Israel
Size 614 Mb 
For the first time in sampling history, Sonokinetic is proud to present this unique and one of a kind female vocals sample library. FIlled with intriguing, mysterious and authentically sung traditional jewish music. Performed by one of the greatest contemporary classical Jewish singers of our time; Hadass Pal Yarden. Her musical talents, professional and impressive sound and specifically specialized musical style makes these captured performances stand out from any other previous Sonokinetic projects. This library offers you chants, improvisations, poems and songs in one of the numerous classical Jewish traditional styles namely; "Sephardic" music. This first volume of "Voices of Israel" also includes improvisations on western harmonics which complements music written in western musical root harmonics, which makes this library very flexible and versatile to implement into your musical projects.The proven vocal sampling concept of Sonokinetic's vocal sampling libraries continues with another dedicated ethnic vocal collection. Combining non-western vocalic musical elements into a tool for serious professional music productions.
To give your production the extra authenticity that'll make it unique and stand out in realism and originality. 1300+ vocal elements in various keys and speeds will provide you with a pallet that's not matched in many other vocal sample libraries. The intuitive use of the Native Instruments Kontakt engine guarantees you countless numbers of variations by combining melodic patterns, sung melodies accessible in several phrases, vocal effects, spoken words and more Jewish Sephardic origin styled samples.
Many of the Songs, poems and texts performed by Hadass have never before been recorded and we translated them into a great 'tool' for composers. With this, Sonokinetic establishes another large and great collection of non-western vocal music based on art music and ancient musical origins.
We always try to push the limit to capture a generic soundscape with a wide selection of user-friendly, easy to use sample collections.
We wish you the best inspiration and creativity.
Disclaimer: Jewish music theory and character is very different form western music. Due to it's many microtones and typical tone distances used in these songs. But as a general reference we found that a lot of our minor and major keys go well with these samples. We specifically applied western tuning while recording these samples. All these harmonic references are interchangeable and can be combined to create thousands of original combinations. The full potential of this sample library is yet to be unleashed. For quick – no – nonsense recording and a perfect fit to your minor harmonics please refer to the 'western minor improvisations' patches.
What's in this volume:
Core samples: 1 female voice. Jewish/Sephardic style sound
5 Multi instruments for Kontakt 4.2.4 with up to 4 tab screens – Main View, Convolution, Envelope and a credits tab
Main view with key indicator, BPM switches and thematic design
Convolution reverb applicable on all patches. 4 rooms available
Envelope Editor & Breath Control: Attack & release knobs and breath volume
Credits and thanks
1300+ samples. (855MB sample content)
Chants & Songs in all keys, voice effects; whispered and spoken texts (ancient Jewish poems). Chants are wordless melody lines, Songs contain words
Western Improvisations: with these special patches we've tried to blend the Sephardic style melody to fit western harmonics. For quick scoring and adding creative artistic features to your music. Not all keys are available due to the vocal pitch limitation.
Songs, chants and improvisation patches have programmed key switches linked to the harmony root, with corresponding interface views. Root harmony and scales are presented for each key zone.
"Vocal FX", an exclusive one of a kind original recording of different Sephardic style vocal effects. These patches are the real deal. Sonokinetic is proud to present these as a special feature
Various 'instant endings' have been programmed to separate keys in each instrument, to give you the possibility to end a phrase whenever you want, however you want.
Time stretching function (TS); all patches are available with pitch wheel function to slow down and speed up the phrases and melody lines.
4 impulse responses: 24 bit wave format. 3 Synagogues and one large dome.
Interface installers for Mac, PC and manual instructions.
Royalty and copyright free content license.
License and Usage Agreement for "Voices Of Israel"
English translations for all sung and spoken texts within "Voices of Israel". These texts have never been translated. This is a genuine first. And we're proud to present them as an extra feature.
Artwork : "Voices Of Israel" dvd cover. Designed by Pavel Fuksa
Zippyshare
Part 1   Part 2   Part 3   Part 4
Video Preview: