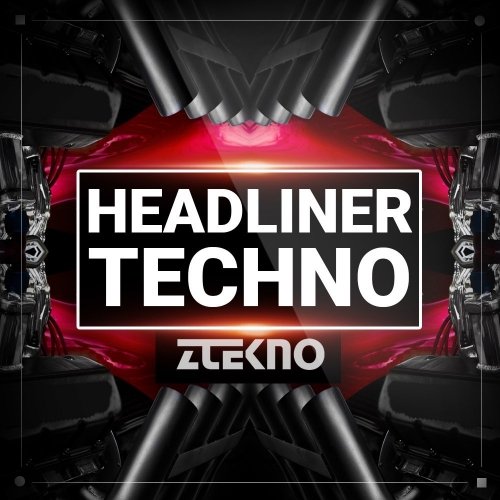 ZTEKNO Headliner TECHNO
Size 487 Mb 
ZTEKNO are proud to present Headliner Techno sample pack! More quality sounds, more punchy drums, more super basses and more and more and more!
We are upgrate our music studio and now we are proud to present our new extra quality sounds!
Thanks to boss of Drumcode and other Techno labels and artists who support our products! HUUUGE THANKS!
All samples are warmed,processed and tuned.
WAV Pack – Product Specifications:
• Format: WAVs/MIDIs
• 190 x Punchy Techno Drum Hits (One-Shots) (20 x Claps, 20 x Snares, 30 x Close Hi-Hats, 30 x Open Hi-Hats, 30 x Kicks, 40 x Percussions, 10 x Crashes, 10 x Rides)
• 060 x Bass Loops (With SC \ Without SC)
• 030 x Bass (MIDIs) Loops
• 060 x Synth Loops (Dry \ Wet)
• 030 x Synth (MIDIs) Loops
• 030 x Full Drum Loops (a \ b)
• 030 x Top Loops (a \ b)
• 50 x Sounds SFXs (30 x Dark FXs, 10 x Sweeps Down FXs, 10 x Sweeps Up FXs)
• 020 x Vocals (Dry \ Wet)
• 500 Files In Total
• 627 MB Unzipped
• Recorded At 126 BPM
• Key And Tempo-Labelled
• 44.1kHz 24-Bit High Quality
• Compatible With All DAWs
• PC & Mac Compatible
APPLE LOOPS Pack – Product Specifications:
• Format: AIFF/WAVs/MIDIs
• 190 x Punchy Techno Drum Hits (One-Shots) (20 x Claps, 20 x Snares, 30 x Close Hi-Hats, 30 x Open Hi-Hats, 30 x Kicks, 40 x Percussions, 10 x Crashes, 10 x Rides)
• 060 x Bass Loops (With SC \ Without SC)
• 030 x Bass (MIDIs) Loops
• 060 x Synth Loops (Dry \ Wet)
• 030 x Synth (MIDIs) Loops
• 030 x Full Drum Loops (a \ b)
• 030 x Top Loops (a \ b)
• 50 x Sounds SFXs (30 x Dark FXs, 10 x Sweeps Down FXs, 10 x Sweeps Up FXs)
• 020 x Vocals (Dry \ Wet)
• 500 Files In Total
• 627 MB Unzipped
• Recorded At 126 BPM
• Key And Tempo-Labelled
• 44.1kHz 24-Bit High Quality
• Compatible With All DAWs
• PC & Mac Compatible
Zippyshare
Demo Preview: