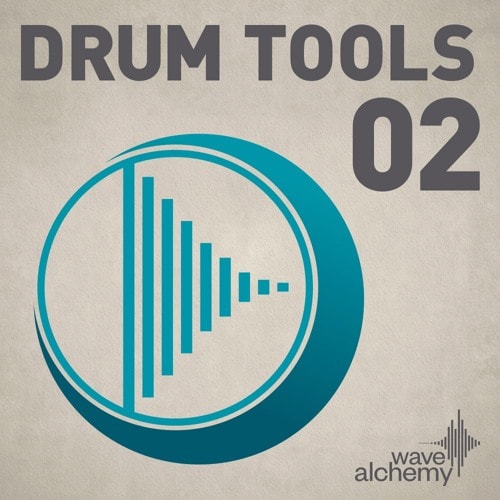 Wave Alchemy Drum Tools 02
Size 711 Mb 
Drum Tools 02, the definitive drum sample library for electronic music production!
A labour of love spanning 2 years, Drum Tools 02 delivers over 4,000 ground-breaking electronic drum samples and percussive hits, each carefully crafted by hand from the ground-up using a huge array of drum machines, analogue synths, foley recordings and acoustic sound sources; processed individually on a sound-by-sound basis using a boutique collection of high-end outboard gear…
Pushing the boundaries of contemporary sound design, Drum Tools 02 delivers a unique collection of next-generation, production ready drums for modern electronic music production; an essential toolkit for Techno, EDM, DnB, Dubstep, Deep House, Trap, Electronica and everything in-between!
For added character, warmth and punch, selected sounds have been re-recorded to both ½ inch analogue tape via an Ampex ATR-102 analogue tape machine, and 12" Vinyl via a classic Neumann VMS 70 vinyl mastering lathe.
What's included in the sample pack?

4,025 24-bit, 100% royalty-free drum hits arranged into 4 main sections:
Processed Drum Section

2029 processed drum and percussive hits – enhanced and layered individually on a sound-by-sound basis using our extensive collection of high-end hardware processors and sound shaping tools:
450 unique bass drums arranged by type across 6 sub-folders: 'classic kicks', 'deep & minimal', 'fat & punchy', 'heavy and EDM', 'processed machines' and 'short & snappy'
225 luxurious claps arranged across 3 sub-folders: 'processed machines', 'stacked & layered' and 'synthetic & noise'
100 crash cymbals & rides
192 hi-hats arranged across 3 sub folders: 'classic hats', 'metallic & synthetic' and 'noise, acoustic & layered'
343 electronic percussion sounds arranged by type across 6 sub-folders: 'analogue & nu-perc', 'blips, pops & snaps', 'blocks & cowbells', 'clicks, sticks & rims', 'deep & dissonant' and 'hand drum & tribal'
240 acoustic percussion sounds arranged by type across 5 sub-folders: 'bongo & conga', 'claves, blocks & bells', 'hand drums', 'shakers & sticks' and 'timbale'
77 glitch & abstract percussion hits
282 snare drums arranged by type across 4 sub-folders: 'layered snares', 'lo-fi & gritty', 'noise & synthetic' and 'processed machines'
120 toms & tones
Tape Processed Section

1528 24-bit tape processed drum and percussive hits
Identical in folder structure to the processed drum section, the 'tape drums' folder includes a selection of samples bounced through ½ inch Analogue Tape for added character, tone, warmth and punch!
1528 Tape processed drum samples with multiple saturation levels and vari-speed pitches, recorded via a classic Ampex ATR-102 analogue tape machine
Vinyl Processed Section

468 24-bit vinyl processed drum and percussive hits
Identical in folder structure to the processed drum section, the 'vinyl drums' folder includes a selection of samples bounced through 12" Vinyl for added grittiness and warmth!
468 Vinyl processed drum samples recorded via a classic Neumann VMS 70 vinyl mastering lathe
Drum Kits

The drum kits folder contains a number of ready-to-play drum kits, conveniently mapped to the following software sampler formats:
Battery 3 – 79 kits
Halion – 79 kits
Kontakt – 79 kits
NN-XT – 79 kits
SFZ – 79 kits
EXS24 – 79 kits
Live 9 Pack

36 pre-mapped drum racks for Ableton live 9, carefully mapped with full Push compatibility
32 'modular' drum selector modules for bass drums, claps, crash cymbals & rides, hi hats, percussion (acoustic), percussion (electronic), percussion (glitch), snares, toms & tones
Each drum sound has 8 pre-assigned macros for quick editing and tone shaping – tune/pitch, gate/decay, tone, multiple distortion parameters and volume
520MB
3,557 24-bit one shot drum hits and tones
NI Maschine Pack (compatible with version 2.4 and above)

4025 drum samples
35 drum kits
Easily edit sampler voice settings including pitch/tune, filters, envelopes, LFO's and FX per sound via the Maschine controller
Drum Tools 02 Kit List
Sound Generation

Elektron Analog RYTM
ARP 2600
MFB Tanzbar
Roland Jupiter 8
Sequential Circuits Prophet 5
Roland TR-808
Roland TR-909
Roland TR-707
Roland TR-606
Roland CR-78
EMU Drumulator
Sequential Drumtraks
Linn Linndrum
Future Retro XS + Moog CP-251 & Moogerfoogers
Mutable Instruments Ambika
Korg MS-20
Acidlab Miami
MPS Drum Synth
Pearl Syncussion
Jomox Mbrane
Jomox MBase 11
Jomox Xbass 999
Vermona DRM
Metasonix D-1000
Various acoustic drums, percussion & foley recordings
Processing

Thermionic Culture Vulture Mastering Edition
Ampex ATR-102 Analogue Tape Machine
Eventide H8000
API 2500 Compressor
API 5500 EQ
Studer A80 Analogue Tape Machine
Elysia XPressor 500
A-Designs EMPEQ
SSL E Series EQs & Compressors
Empirical Labs Distressor
Empirical Labs Fatso
Oto Machines Biscuit
Schippmann Ebbe und Flut
Spectra Sonics 610
Valley People 610
Akai S950 Sampler
EMU SP-12 Turbo
Zippyshare
Demo Preview: