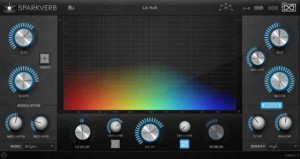 UVI Sparkverb v1.1.2
Size 50 Mb 
With a cutting-edge algorithmic design, Sparkverb breaks the boundaries of contemporary reverbs giving users modern and innovative controls that dramatically enhance usability, speed and creative freedom while delivering breathtaking sound quality and remarkable CPU efficiency.
Sophisticated Design – Enormous sonic range, fast and efficient workflow
Easily traverse everything from natural sounding spaces to infinite, shimmering ambiences with stunning depth and fidelity throughout the entire spectrum. This type of range typically implies a dense and complex interface – not in Sparkverb. Usability and workflow were pivotal considerations in development.
A great deal of care was taken to allow a high degree of customization with the fewest controls possible, resulting in less time spent fidgeting and more time being productive.
At the core of Sparkverb's interface is a frequency-based spectrum editor; use it to sculpt and refine your sound with phenomenal speed and control. Adjust decay globally and across multiple bands with hi/lo multipliers and crossovers directly on a single canvas. It's an entirely new way to work with reverb.
All other controls are clearly arranged and labelled, including A/B comparison, making fine-tuning a painless process.
Dialing in a reverb, simple or complex, has never been this fast.
Explore  With Or Without Boundaries
Sparkverb shines in traditional mixing sessions but was designed to be an exceptionally flexible creative tool as well. Discover new spaces and explore the full range of sonic possibilities effortlessly with built in mutation and randomization controls.
These functions are made even more useful by parameter locks available on every control.
Experiment within prescribed boundaries such as a fixed mix amount or pitch modulation to find exciting variations that work for your specific need. Another innovative tool comes in the form of the Preset Voyager. At launch, Sparkverb creates a 2-dimensional array of all presets on your machine; simply toggle the Preset Voyager display and click-drag between preset nodes to freely interpolate new settings. Watch controls update in real time to see what's happening and create new presets to redefine the space – the possibilities are limitless.
Extensively Optimized For Extreme Performance.
Under Spark's elegant exterior lays a powerful and extensively optimized DSP engine. Built on UVI's Parametric FDN Engine, Sparkverb can be instanced near-limitlessly. The dramatic performance gives you unprecedented access to Sparkverb's high- fidelity sound throughout your sessions. Use it on as many tracks and busses as you need without worrying about CPU overload.
Additionally you'll find numerous features which help to make Sparkverb indispensable such as fully continuous parameters; freeze; multiple operation modes; variable densities; unique and decorrelated multi-channel operation; full automation control; advanced diffusion algorithms and tunable modulation for pitch accuracy regardless of scale. Add a generous helping of factory presets and you've got a versatile and powerful sonic tool suited for the most demanding studio environments.
Fast, Versatile, Stunning.
Whether you're working with small ensembles, massive orchestras, sound design or anything in-between, Sparkverb offers a unique experience and innovative feature set that helps you work faster, smarter and more creatively than ever before.
Let Sparkverb redefine the way you resound.
Video Review: