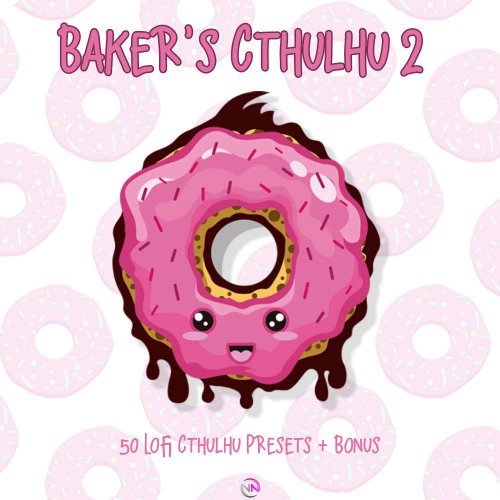 TheDrumBank Bakers Cthulhu 2 WAV MIDI PRESETS
Welcome to the "Baker's Cthulhu" Preset Collection! Each progression is inspired by some of todays HOTTEST Artists & Producers like Knxwledge, Chilled Cow, Tomppa Beats, Jinsang, Fat Jon, Flying Lotus, Eevee & more!
Here's how it works:
Easily Browse Chord Progressions by Key & Scale
Select The Key & Scale You Would Like
Find C3 On Your MIDI Controller (all progressions will start here)
Begin Creating!
Each Chord Progression has 6 Main Chords. These chords are then followed by different versions of each (Example: 7th chords, 9th chords, etc) giving you maximum control over the sound & feel of your productions!
Here is how your MIDI Controller will be programmed:
Keys C3-F3 = Main Triad Chord
Keys F#3-B3 = 7th Chords
Keys C4-F4 = 9th Chords
Keys F#4-B4 = Random Chords
With 50 Progressions in all, that is over 1200 Individual Chords! Turn on Cthulhu's "Arp Generator" to begin getting Melodic Inspiration as well. Here is a little tip, use Cthulhu's "WTF" Effect with the "Random Chords" section of your progression to create even more awesome chord & melody inversions!
If that wasn't enough for you, we've got you covered. You will also receive 5 full beat constructions loaded with MIDI Loops, WAV Loops, One-Shot Samples, 5 Drum Racks & Demo Beats! These include every sound you here in the Pack Demo!
If you have not had the chance to study music theory, have writers block or just have trouble playing chords, the "Baker's Cthulhu" Preset Pack is perfect for you! Step up your Lofi & Hip Hop Productions with these Cthulhu Presets today!
Sample pack details:
50 Cthulhu Presets
1200 Individual Chords
50 Full Chord Progressions
5 Construction Kits:
5 Demo Beats
86 MIDI Loops
87 WAV Loops
73 Samples
5 Drum Racks:
5 Kicks
5 808s
9 Snare/Clap
15 Hats
20 Percs
What do you get by downloading "Bakers Cthulhu 2"
MIDI files
MIDI files from TheDrumBank – Bakers Cthulhu 2 are flexible and powerful allowing you to assign any of the musical phrases to your favourite synth or sampler and is only instructional data, so you can change the pitch and tempo beyond which the loops were originally recorded to any extent you like, with no artefacts.
Sample pack inspired by top musicians
Bakers Cthulhu 2 from TheDrumBank is inspired by top Hip-Hop, Lo-Fi musicians and producers such as Rick Ross, Lil Wayne, Nicki Minaj, Travis Scott, Lil Uzi Vert, Post Malone, NBA Youngboy. Now it is time for you to take over and use these sounds to cook up your own inspired bangers!
Demo Preview: