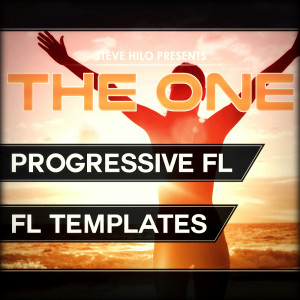 THE ONE Progressive FL Studio
Size 2.5 Mb 
THE ONE proudly presents to you THE ONE: Progressive FL, coming with an FL Studio template + additional files, all tailored for your Progressive House productions.
With this template you'll instantly get right to work, without having to deal with a lot of practical tasks and worry about technical things – things that can kill your inspiration and creativity.
So by getting THE ONE: Progressive FL, you can be sure that you will feel a dramatic increase in how quickly you may get started and make good music, instead of mousing around until you forget your original idea.
How is this possible?
The template feature powerful mixer routing, and ready sampler tracks and audio clips, already routed to different mixer tracks – all you have to do is add a sound and you're good to go!
Likewise you have 4 different reverb sends already setup so you may quickly blend in some sweet room sounds.
These are only 2 examples of how THE ONE: Progressive FL enhances your workflow.
Why should you buy this template?
• It's crafted by a well experienced producer who knows what a good workflow is
• It feature innovative techniques that the professional producers won't talk about in the first place
• It's really good looking, which enhances your joy in making music
• It's made in such a way that it's easy to maintain good gainstaging
The short demo song shows you what great audio quality you can achieve with this template due to its strong workflow, in no time!
Full specifications:
• 1 template for FL Studio 12.1.3
• 15 Mixer Presets from the template
• 11 Plugin Presets from the template
• 3 Synth presets from the template
• 1 Ghostkick sample from the template
• Manual to get the most out of the template
• 4 Pluck template presets for Massive, Serum, Sytrus, and Harmor
• 3 Massive presets used in the demo
*Other Genres that this package may be useful in:
• Minimal
• Tech House
• Techno
• Deep House
• EDM
Demo Preview: