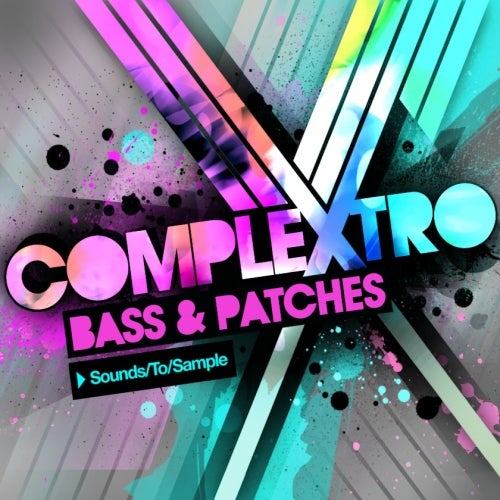 Sounds To Sample Complextro Bass & Patches 1 & 2
Size 186 Mb
S2S Complextro Bass & Patches 1 & 2
Programming hotshot Chevy One mans the oscillators in this bass bonanza packed with 46 beefy bass patches for Massive and FM8 and 100 audio loops built for cutting-edge bass-heavy and hybrid electro genres.
Sounds To Sample always has one foot on the dancefloor to ensure cutting edge releases – and Complextro Bass & Patches is testament to that philosophy.
As the lines between electro house, breaks, dubstep and D&B becomes ever more blurred producers are breaking rules and mashing tools to create hybrid hits such as Wolfgang Gartner's "Undertaker" and Mord Fustang's "Lick The Rainbow".
Characterised by basslines which meld together up to 8 gnarly, futuristic bass tones within one two-bar loop, Complextro Bass & Patches is your ultimate studio weapon.
Fire up one of the 101 ready-rolled 24-bit Wav loops and get instant map-cap complextro bass action or fire up the 46 patches for Native Instruments' Massive and FM8 to create and record your own custom bassline bruisers.
All loops are tempo-synced at 128bpm – making them perfect for all genres where bass really counts: breaks, electro house, dubstep, electro bassline and beyond.
Electro main man Chevy One returns to Sounds To Sample with a revamp of his sizzling and celebrated electro production kit Complextro Bass & Patches, VOLUME 2!
100+ loops of crunchy, stack crushing glory akin to complextro champs Mord Fustang, Lazy Rich, and more,  Volume 2 is jam packed with bass heavy loops ready to be fired up in your favorite DAW.
But wait!
Theres more!
Along with some of the grittiest electro loops any human being could possibly fathom, Complextro Bass and Patches 2 includes presets for the ultimate in complextro soft synths!
FM8, Massive, and Sylenth!
So fire up those audio suites, drop in some loops, and tweak these pre-sets and you'll be on your way to the next chart topping main-room slayer.
FM8 1.2, Sylenth 2.2 & NI Massive 1.3 are required.
The pack includes:
207 Wav Files
13 FM8 Patches
85 Massive Patches
14 Sylenth Patches
Demo Preview: