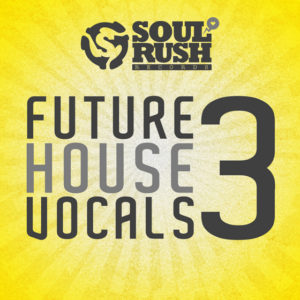 Soul Rush Records Future House Vocals 3
Size 381 Mb
Welcome to 'Future House Vocals 3' brought to you by Soul Rush Records run by Tigerlight. This is the biggest pack in file size of the Future House series that we have released.
When writing the vocals for this pack we set out to make sure the lyrics have an edge, but are still feel good. Forget the days of cheesy vocal packs these are all well written and professionally vocalled, from their stylistic and emotionally delivery, to their soulful timing and creative melodies.
The deeper and garage flavored side of house music is everywhere. The dancefloors of Europe and The US are going crazy for it and there's no sign of it stopping. Soul Rush Records is very pleased to bring you the next installment of the critically claimed 'Future House Vocals' series. Featuring 5 professional vocalists and 115 different vocal loops. Focusing on hooks that will slot perfectly over your production, be it house or any other genre. All recorded to a super high standard as ever, all you need to do is apply some effects and you are good to go. For those feeling artists like Hot Natured, Shadowchild and Huxley, this is a must have. Give your track the flourish that only a quality vocal can give.
The tracks are recorded in Aminor, Cminor, Fminor and Gminor at 124, 128 and 132 bpm.
The singers' credits include:
Writing and singing charts hits, worldwide radio airplay, writing songs for film soundtracks, backing vocalists and tours with major artists and tours as featured Artists.
Hit play on the demo and hear for yourself
Product details:
24 Bit Quality
843MB
Featuring 3 Female and 2 Male Vocalists
All Unique Vocal Hooks
124, 128 & 132BPM
Provided in keys Aminor, Cminor, Fminor and Gminor
115 Total files
All individual Vocal Phrases provided Dry
Zippyshare
Demo preview: