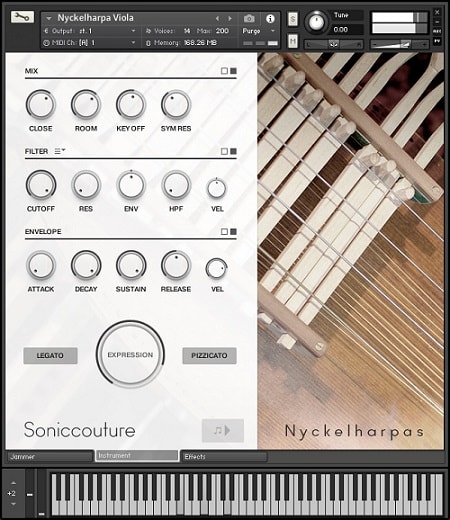 Soniccouture Nyckelharpas v1.0 KONTAKT
Size 4.16 Gb
NYCKELHARPAS – SCANDINAVIAN KEYED STRINGS
Familiar yet somehow different, the sound of the Nyckelharpa walks a delicate line. Dating from the middle ages, Nyckelharpa translates as 'keyed fiddle' in Swedish.
The pitch of the notes is altered by pressing a wooden key, which frets the string. There are also 12 sympathetic strings, added in the mid 1700s, possibly inspired by the viola d'amore. They serve to add resonance, volume and a general zing to the sound.
This product features two different harpas: the standard viola pitch instruments, and an 'octavharpa', a cello tuned model.
Instrument Anatomy
Recreating such a traditional, natural instrument requires a forensic approach.
Each element is recorded, every tiny detail captured – and then reconstructed in Kontakt.
Simple characteristics can become creative features once you have control – noises, resonances, plucks.
Take our video tour to learn more about the pieces that make up the whole.
The detailed, multi-element control available in Nyckelharpas makes it an extremely flexible sound design tool.
Completely natural, organic sound all the way through to abstract evolving drone-scapes.
With noise control, sympathetic resonance, ensemble mode, filters, modulation and effects to experiment with, new hybrid soundscapes are a few tweaks away.
Nyckelharpas features:
Standard pitched nyckelharpa made by Sören Åhker: standard Swedish 3-row tuned (low to high) C G C A.
Cello pitched nyckelharpa (oktavharpa) made by Olle Plahn with the key box by Annette Osann. Tuned an octave lower than the normal nyckelharpa. This particular instrument has all four melody strings keyed and is tuned exactly like a cello – C G D A.
Close mics: stereo pair U87 (cello) Coles ribbon (viola).
Room mics: stereo pair U48.
24 bit 96 kHz sampling.
7.7 GB library (4.5 GB with Kontakt NCW compression).
Bowed, Pizzicato, key-off/up/down, sympathetic resonance samples.
Jammer – KSP generative arpeggiator.
Ensemble detune module.
Custom effects insert chain.
Custom IR reverb processor with Soniccouture IR library.
Requires KONTAKT 5 version 5.6.8 or later
Demo Preview: