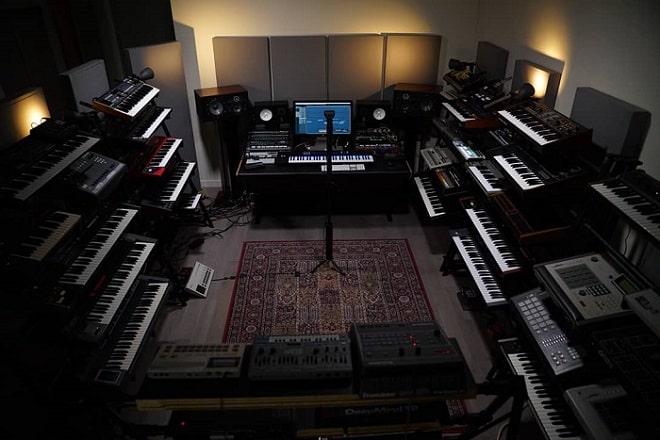 Sharooz Raoofi Principle Pleasure Studios Analog Synth & Drumbox Collection KONTAKT
Sharooz Raoofi of Sample Magic has released Principle Pleasure Studios, a collection of analog synthesizer multi-samples from his LA-based studio.
Principle Pleasure Studios is a freely downloadable sound library containing over 1 GB of royalty-free analog synth multi-samples. The samples are provided in WAV format. You can use them in virtually any digital audio workstation or sampler instrument available on the market.
According to Sharooz's post on Facebook, he recorded these samples a while ago, just in case he was in a situation where he couldn't access his favorite synthesizers. The samples can now be downloaded completely free of charge. Here's more info about the library:
Working at my LA studio has been a privilege – sorely missed right now. A few years ago I multi-sampled my favorite synths and drum boxes (100+ of them) in the event that if ever I couldn't get there, I'd have instant access. I've really enjoyed these sounds, they're my go-to palette. Now feels an ideal time to share them. There are over 1GB of samples, all put through the best channel strips and converters around, unprocessed.
List of Patches:
ALPHA JUNO BASS
ALPHA JUNO CHORD P38
ALPHA JUNO LEAD
ARP ODYSSEY PLUCK
ARP ODYSSEY SCREAM BASS
ARP ODYSSEY SYNC LEAD
D-50 DARKSPHERE
DX BASS
DX7 DARK BASS
DX7 ORGAN
DX7 STRINGS
DX7 SYNTH BASS
EMU DRUMULATOR
JP-6 PAD
JP-6 RESOPAD
JP-6 SAW PAD
JP-8 BRASS
JP-8 CLASSIC BASS
JP-8 CLASSIC BRASS
JP-8 DETUNE SCREAM
JP-8 DETUNED SYNC
JP-8 FILTH BASS
JP-8 GLASS KEY
JP-8 LUSH PAD
JP-8 OCTAVE LEAD
JP-8 RESO BASS
JP-8 SILK LEAD
JP-8 SILK PAD
JUNO 6 ACID BASS
JUNO 60 CHORD
JUNO 60 DISCO LEAD
JUNO 106 CHORUS PAD
JUNO 106 CLASSIC BASS
KORG DDM-110
KORG DW8000 PLUCK
KORG MS20 BASS
KORG RHYTHM 55B
LEGACY CHORD
LEGACY CHORD 2
MXR 185
NORD 3 90S BASS
NORD 3 BUSTED PLUCK
NORD LEAD 2 CHORDPAD
NORD LEAD 2 PLUCK
NORD LEAD 3 DIST BASS
NORD MEGAPLUCK
NORD PLUCK
NORD POLYCHORD
NORD POLYCHORD 2
NORD SUB BASS
OBERHEIM OB-8 PAD
POLY 800 BASS
POLY 800 BASS 2
PRO ONE BASS
PRO ONE BASS 2
PRO ONE LEAD
PRO ONE SCREAMING BASS
PRO PULSE BASS
PROPHET STRINGS
PROPHET SYNTH
ROLAND CR-68
S3000 RAVE CHORD
SC DRUMTRAKS
SH-101
SH-101 BASS 2
SH-101 BASS 3
SH-101 BASS 4
TB-303 SAW BASS
TB-303 SAW TONE
TB-303 SQ BASS
TB-303 SQUARE TONE
TEENAGE ENG OP-1 LD
TR-606
TR-626
TR-707
TR-808
TR-909
VOYAGER BASIC SYN
VOYAGER BASS
VOYAGER CHORD
VOYAGER EERIE SYN
VOYAGER GTR