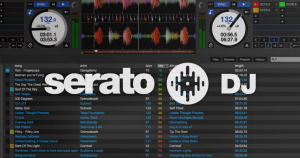 Serato DJ 1.8.1
Size 228 Mb 
Serato DJ has a brand new look and a greatly improved software layout, optimized for simplicity and a great experience. The new interface also offers two and four deck view modes for four deck controllers, alongside improvements to the cue point and looping controls, which now allow you to display either 8 cues, 8 loops or a combination of both depending on how you perform.
New Key analysis features and display
We have added Serato key features and changed the workflow of the track analysis process. Get an accurate key reading for each track in your library without having to re-analyse BPM and beatgrids. Choose from 4 different key display options with optional color coding for easy harmonic mixing and library organization. Key information is written to your tracks ID3 tags and can be used in a number of other applications.
Key Shifting/PnT 2.0 updates
Make any mix harmonic with new Pitch 'n Time DJ key shifting and syncing features. Change the key of your tracks by +/- 12 semitones without affecting the tempo. Click key sync to match the keys of any tracks in your library and check the compatibility of your blends with the new key display area. These updates are part of the Pitch 'n Time DJ expansion pack, free for existing Pitch 'n Time DJ users. Speed up or slow down your track to extreme tempo values while maintaining its key perfectly, with the highest quality and definition of any available software.
Remap your primary hardware
The latest version of Serato DJ allows you to remap the buttons and knobs on your primary MIDI device. Change the MIDI mapping of your hardware to gain access to new features or customize your controller to suit your workflow.
Pioneer DJ DJM-S9
Announcing support for the all new Pioneer DJ DJM-S9 battle mixer. Plug-and-play support provided with two soundcards, for easy B2B sets and DJ changeover. The DJM-S9 is a Serato DJ and DVS Enabled device. Building on the legacy of Pioneer's classic DJM-909 mixer, the DJM‑S9 takes things a step further. Offering new hardware developments as well as tightly developed integration with Serato DJ. Large performance pads and customizable FX controls give DJs access to take control of their music.
Club Kit License Bundle & Hardware
The Serato DJ Club Kit is a license bundle containing Serato DJ and the DVS Expansion Pack. This is available with Serato DJ 1.7.4 to coincide with support for the Rane MP2015, Pioneer DJM-850, DJM-900NXS and the Allen & Heath Xone:43C, Xone:DB2 & Xone:DB4.
International Language Support
Serato DJ supports 7 languages including: English, German, French, Spanish, Simplified Chinese, Japanese and Portuguese. All the core features of the software have been translated along with the setup screen and the My Serato window.
System Requirements:
– Windows 10, 8.1 (32-bit and 64-bit).
– Windows 7 (32-bit and 64-bit).
More Info:
https://serato.com