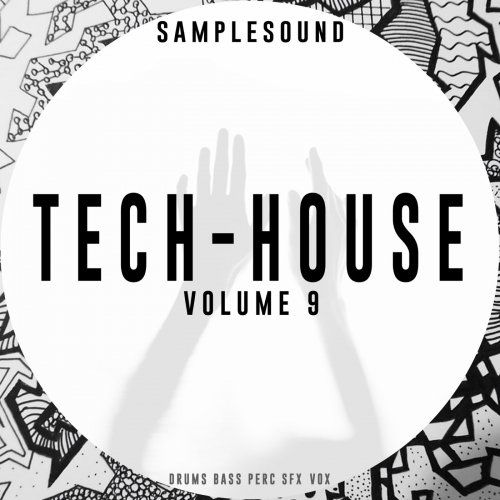 Samplesound Tech-House Volume 9
Size 164 Mb

"Tech-House Volume 9" is another pack for Samplesound Company.
This sound is for all Techno and Tech House Djs and Producers.
Featuring 371.70 MB of Techno Bass, Drums, Percussion, One Shot Kick, One Shot Clap, One Shot HH, Top Loops and EFX, you can create your Techno style.
Inside the folders you'll found 246 samples in wave format and you can use all in Apple Logic, Ableton Live, Pro Tools, Cubase and others.
Samplesound, give shape to your #UNDERGROUND ideas!
Download contains:
• Bass Lops: #10
• Drum Loops: #15
• EFX: #10
• Full Loops: #10
• Lead Extra: #11
• One Shot Clap Snare: #51
• One Shot HH: #50
• One Shot Kick Solo: #50
• Perc Loops: #12
• Top Loops: #17
• Vox: #10
• Bit-rate: 24
• Sample-rate: 44.100 KHZ
• Genre: Techno, Tech House
• Size: 371,70 MB (unzipped) – 227,10 MB (zipped)
• Folders: Bass Loops, Drum Loops, EFX, Full Loops, One Shot, Perc Loops, Top Loops, One Demo Song
• Instrument types: Bass, Drum, EFX, One Shot Clap, One Shot HH, One Shot Kick Solo, Demo Song
Specifications:
• 10 x 24-BIT WAV Bass Loops (10 Bass Loops at 125 BPM)
• 15 x 24-BIT WAV Drum Loops (15 Drum Loops at 125 BPM)
• 10 x 24-BIT WAV EFX (10 EFX at 125 BPM)
• 10 x 24-BIT WAV Full Loops (10 Full Loops at 125 BPM)
• 11 x 24-BIT WAV Lead Extra (11 Lead Extra at 125 BPM)
• 51 x 24-BIT WAV One Shot Clap/Snare (51 One Shot Clap at 125 BPM)
• 50 x 24-BIT WAV One Shot HH (50 One Shot HH at 125 BPM)
• 50 x 24-BIT WAV One Shot Kick Solo (50 One Shot Kick Solo at 125 BPM)
• 12 x 24-BIT WAV Perc Loops (12 Perc Loops at 125 BPM)
• 17 x 24-BIT WAV Top Loops (17 Top Loops at 125 BPM)
• 17 x 24-BIT WAV Vox (10 Vox at 125 BPM)
Demo Preview: