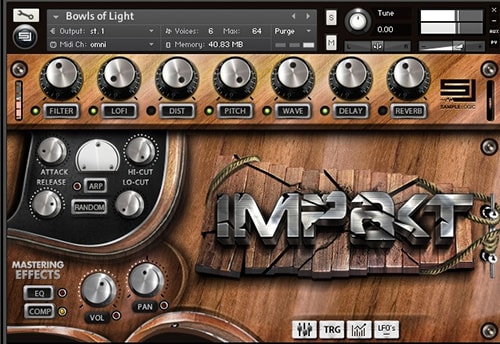 Sample Logic Impakt KONTAKT
Size 18.76 Mb 
Sample Logic breaks new ground with IMPAKT — A suite of over 850 breathtaking morphed concert percussion instruments and multis that will blow you away. This diverse collection of instruments ranges from dramatically twisted marimbas and xylophones, blissful chimes and bells to massively transfigured timpani, gongs, bass drums, cymbals, and a variety of world percussion instruments. IMPAKT also includes a complimentary set of traditional concert percussion instruments. All sounds were recorded on the Scoring Stage at Skywalker Sound (a Lucasfilm Ltd. Company) under the direction of renowned percussionist Jim Wunderlich and System Blue, the result of which is a comprehensive library that contains both traditional instruments and an evocative collection of morphed cinematic instruments, transitions, atmospheres, leads, impacts, and tempo-synced rhythms.
CREATE, INNOVATE, PERFORM
IMPAKT captures instruments and performances that goes far beyond standard performance techniques and practices. From the massive collection of material sampled, Sample Logic has crafted an insane suite of innovative dynamic and original cinematic instruments, bringing forward a new genre of sound where music and sound design collide.
STUNNING USER INTERFACE
IMPAKT's spectacular user interface was designed with the composer and sound designer in mind, providing effortless control for complete customization. IMPAKT is all about user experience with the freedom to infinitely transform samples into awesome evolving instruments with endless possibilities.
The interface includes:
•"Multi-core Effect Sequencers" for real-time effect automation
•"Triggers" – 48 unique effect chains
•"Arpeggigater" – sequencer based gate effect
•"LFO" section to make things wobble
•"Wave" – additive/subtractive synthesis engine
•"Pitch" sequencer for quick and easy real-time pattern based transpositions
•"Space" – a 3D sound mixer for traditional instruments that can dramatically change the listening perspective in realtime.
•"Loop" – audio sliced based effect engine that can bypass and turn effects and parameters on in realtime that is included on all tempo-synced loop instruments.
•"Multi Script Macros" for real-time sequencing of instrument parameter controls
RE-ENGINEER THE SOUND
All of the traditional instruments in IMPAKT were recorded and programmed so the end user has total control of the multiple microphone mix (Close, Mid, Far, Rear, Sub, Wavetables), using a newly designed mixer section. Additionally, the entire listening perspective of any traditional instrument can be manipulated, using a new 3D-sound engine called "Space". Space includes a visual mixing console for easily changing the listening perspective to any location in a theater. From standing behind the stage to sitting all the way in the back row of the theater, each instrument can be moved around for the perfect mix when combining instruments together.
MORPHED
•Atmospheric/Ambient Soundscapes
•Melodic Leads and Pads
•Percussive tempo-synced rhythmic Loops
•Melodic & Percussive Arpeggiated Instruments
•Percussive Impacts, Big Hit Ensembles & Kits
•Swipes, Scrapes, & Reverse Transitional Effects
TRADITIONAL
•Marimba, Vibraphone, Xylophone, Glock & Crotales
•Bass Drum, Timpani, Gong, Tubular Bells, Suspended Cymbals
•World Percussion – Bongos, Cajon, Wood Block, Conguitas, Cow Bell, Water Triangle, Wind Chimes, Hands, Guiro, Tambourine, etc.
MULTIS
•Over 80 custom crafted multi-instruments that include Construction Beds, Instrument Stacks & One Note Glory Multis
•Performance-ready with up to 6 customizable Multi Script Macros
System Requirements & Compatibility
Kontakt 5 Player 5.1 or higher (free download) or full version of Kontakt 5.1 or higher (sold separately)
Mac OS X 10.7 or 10.8 (latest update), Intel Core Duo, 2 GB RAM (4GB recommended)
Windows 7 or Windows 8 (latest Service Pack, 32/64 Bit), Intel Core Duo or AMD Athlon 64 X2, 2GB RAM (4GB recommended)
1 GB free disk space for Kontakt 5 Player
20 GB free disk space for IMPAKT sample content
Kontkat is continously being updated. For the latest system compatibilities visit the Native Instruments website.
Tech Specs
Over 850 Instruments and Multis delivered at 44.1k/24-bit.
Just over 20 GB sample library using Kontakt's lossless sample storage compression
NI Kontakt 5 Player with native 64-bit support
Stand-alone, VST, AU, DXi, RTAS (Pro Tools 9 or higher), ASIO, CoreAudio, WASAPI
Mega