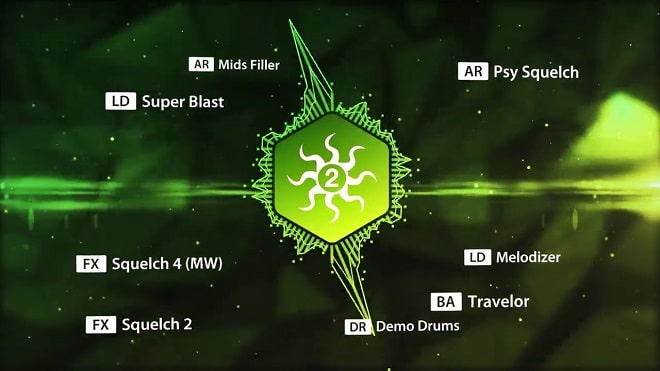 ReFX Nexus Expansion Psytrance 2
Welcome to a brand new chapter in modern Trance music: Psytrance!
Get ready to be transported and mesmerized by inspiring arpeggios, evolving sequences, lush pads, spiky basslines, warbling effects, triplet beats, and punchy drums.
This one is a dream coming true for all Trance and EDM producers!
Presets
XP Psytrance 2151 presets
ARA Unicorn Minor
ARAcid Background 1
ARAcid Background 2
ARAcid Background 3
ARBlack Sun
ARFantasy
ARFine
ARLast Battle
ARMetallics
ARMids Filler
ARMore Harder
ARPanic
ARPsy March
ARPsy Squelch
ARResistence
ARRough
ARSimple Bridge
ARSuper Grind
ARSymphony
BA5th Punch
BAAll Psy
BABasspad
BACivil
BAFast Process
BAMassive Hit
BAMegastart 1
BAMegastart 2
BAOffbeat Pulse
BAPsy Basic 1
BAPsy Basic 2
BAPsy Basic 3
BAResponse
BAThe Blastoyz 1
BAThe Blastoyz 2
BAThe Blastoyz 3
BATravelor
BAVocaldex Bass
BRBoom 1
BRBoom 2
BRBoom 3
BRFullrange
DRDemo Drums
FXBite
FXDemo FX
FXFatal Stop
FXGalaxy Glitter
FXGet Ready
FXJealous
FXNext Morning
FXSquare Riser
FXSquelch 1
FXSquelch 2
FXSquelch 3 (MW)
FXSquelch 4 (MW)
FXToxic 1
FXToxic 2
FXVocal Riser 1
FXWire
LDAnnihilation
LDDistorted
LDDroplifter
LDHard Vibes
LDLifting
LDMagician
LDMatrix
LDMedium
LDMelodizer
LDOrigins
LDSuper Blast
LDSuspect
LDThe Only One 1
LDThe Only One 2
LDThe Only One 3
PDAthmos
PDDamascus
PDMagnificent
PDOcta
PDOrbital
PDSoft Lifting
PLBig Win
PLClassic Trance
PLCold Square
PLDirty
PLFortune 1
PLFortune 2
PLHot Day
PLInsom Star
PLNew Dawn
PLSaw Chop
PLSlam
PLSquare Part
PLStars
PLStarship
PLTitanium
PLTrue Brave
PLUndercover
PNAwesome Tuner
PNBig Grand
PNDeep Magic
PNHigh End
PNHum
PNThe Dance
PNWildcard
SQBig Zoom
SQBloodripper
SQFuture Psy
SQHuman Drop
SQMandala Drop
SQRek It!
SQTotal Destruction
SQTriplet Master
SQTsunami 1
SQTsunami 2
STLovely String Set
STMadness
STMassive Set
STPowerstand
STQuick
SYAcidrain
SYEffector
SYGame Time
SYMega Chords
SYPsy Laser 1
SYPsy Laser 2
SYPsy Laser 3
SYPsy Laser 4
SYPsy Laser 5
SYSuper Siren
SYThe Repeat
SYUniverse
TGArmins Style
TGBeaten
TGDemons Night
TGGoa One
TGHardline
TGHover Flow
TGInception
TGMore Is More
TGMythical
TGRaider
TGSimple
VOBad Well
VOChopy Drop
VOLightning
VOMachine
VOUni Voice
VOUnlimited
VOVocal Lead 1
VOVocal Lead 2
VOVocal Lead 3
VOVocal Lead 4