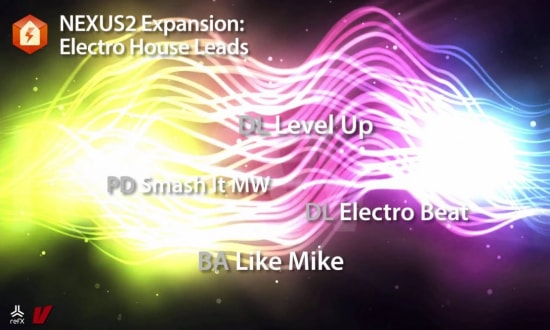 ReFX Nexus Expansion Electro House Leads
The Pure Leads expansion series continues!
Following after HandsUp Leads and Trance Leads, now, get ready for Electro House Leads with 151 leads, lead-basses and arps/SQs.
With recreations of famous and classic leads, this is your ticket for creating the hottest club smashers of all time, don't miss it!
XP Electro House Leads (151 presets):
ARA Bit of Seven
ARAfricaaans 1
ARAfricaaans 2
ARBassthep
ARFalling Skies
ARFlowerpower
ARInpetto 1
ARInpetto 2
ARInpetto 3
ARInpetto 4
ARInpetto 5
ARKandiz
ARSpace
ARTimeless
ARX-Pulse
BA90ths
BABad
BABlack Cat
BACan You Feel It
BACome On
BADefault Sub
BADisto Sine
BADo It Again
BAKnarz 1
BAKnarz 2
BAKnarz 3
BAKnarz 4
BALevel Up
BALike Mike
BAPogo
BARuff Bass 1
BARuff Bass 2
BARuff Bass 3
BAScream MW
BASlap Bass
BASwedish Bass
BATime Is Over
DLBlack Cat 1
DLBlack Cat 2
DLCan You Feel It
DLClap Your Hands
DLDo It Again
DLElectro Beat
DLHouse Beat
DLLevel Up
DLLike Mike
DLScream
DLSouth France
DLSpace
DLSummer Party
DLWelcome To Rio
DRParty Jump 1
DRParty Jump 2
FXLaser
FXShowtime
FXTools
GTPop Guitar
LDAcid Pluck 1
LDAcid Pluck 2
LDCall Me
LDCould Be One Chord
LDCould Be One Single
LDDance Lead
LDDirty Dutch 1
LDDirty Dutch 2
LDDirty Dutch 3
LDDirty Dutch 4
LDDirty Saw 1
LDDirty Saw 2
LDDisto Bass Lead
LDDisto Saw 1
LDDisto Saw 2
LDDisto Saw 3
LDDisto Saw 4
LDEvolution
LDFat Rat
LDFuel
LDGround Zero
LDHard Stuff 1
LDHard Stuff 2
LDHouse Organ 1
LDHouse Organ 2
LDHouse Organ 3
LDJustice
LDKnarz
LDLevel Up Chord
LDLevel Up Single
LDLike Mike Chord
LDLike Mike Psyko
LDLike Mike Single
LDMike Needs Hldys Crd
LDMike Needs Hldys Sng
LDNaughty
LDNight Life
LDNothing To Lose
LDParty Jump
LDSID Lead
LDScream
LDSexy Square
LDShake It
LDShuffle It
LDSpace
LDSuper Saw 1
LDSuper Saw 2
LDTake Over 1
LDTake Over 2
LDTonight
LDTronic
LDWho Cares
LDYeaahhh
LDZombie
OR90ths
PDBad
PDBeautiful
PDNoisy Saw
PDParty Jump
PDShuffle It
PDSmash It MW
PDSoft Pad
PDYeah Yeah Yeah
PLAnalog Saw
PLDo It Again
PLFestival
PLIbiza
PLMysterious
PLOnes
PLPlucked Pad
PNDigital Piano
PNFestival House
SQBit Squad
SQDazura
SQEnergetic
SQEuropean Style
SQEvolution
SQFestival Jump 1
SQFestival Jump 2
SQLevel Up
SQLike Mike
SQLithium
SQRazorbeat
SQShake It
SQSouth France
SQSuckerpuncher
SYDetroit
SYFat Sausage
SYScream
SYSpace
TGCut Scene
TGZappler
WWAccordion
WWTrumpet
Demo Preview: