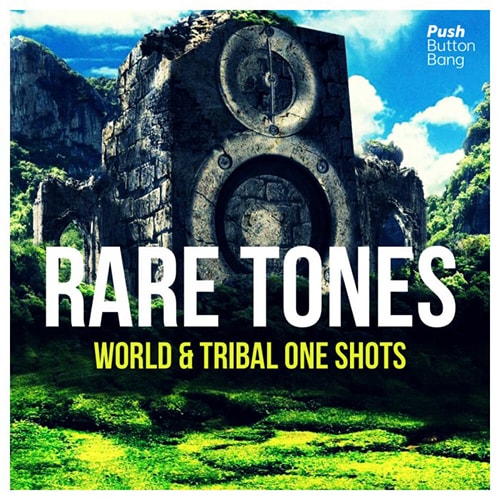 Push Button Bang Rare Tones
Size 1.42 Gb 
Rare Tones gives you a huge collection of unique sounds from tribes and cultures around the world.
From mountain temples in Tibet to Amazon Jungles, From African plains to Iberian beaches, this audio treasure chest features a huge selection of rare instrument hits, notes, tones, plucks, shakes, rattles scrapes, twangs, thuds, strings, impacts and much more.
Featuring over 1100 original and unique drum, percussion and instrument one shots from every corner of the globe, plus over 90 bonus Loops, Stems and performances showcasing some of the exotic instruments.
For the discerning producer looking for something special to add to their hip hop, tropical, tribal and deep house, chill out and downtempo, avant-garde EDM and cinematic film scores.
Please see the specs for a full content list, below is a selection of some of the instruments used:
Frame drum, Tongue drum, Spring drum (custom), sugo drum, Japanese hand cymbals, Gungroos bells, Tibetan bells, Putipi, singing bowls, Santur, duduk, dulcimer, harp, vintage pianos, flute, french horn, wither, violao, berimbau, pandeiro, qin, marimba, lyra, steel drum, singing bowls, tambin, cimbalom , koto, kayageum, darbuka, cajon, kamay, fretless bass, mbira, hey, lute, kudun drum, udu drum, repinique, sansula, tempura, kalimba
With so many interesting unique one shots, fx and drum sounds, Its flexible and downright usable for anything, with lots of interesting hard to recreate sounds to add that magic touch to your production.
From mysterious rainforest tribes to ancient empires, Rare Tones is a truly world encompassing one shot collection is guaranteed to give you something special to make your production one of a kind.
•24 Bit Quality
•2.15GB
•40 Drum Loops
•48 Instrument Loops
•3 Performances
•603 Drum & Perc Samples
•488 Instrument One Shots
•3 Multi Samples (Total 50 Files)
Zippyshare
Part 1   Part 2   Part 3   Part 4   Part 5   Part 6   Part 7   Part 8
Demo Preview: