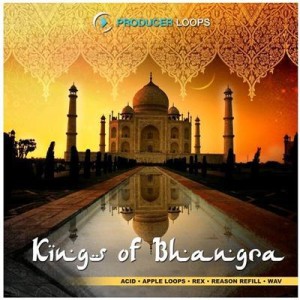 Producer Loops Kings of Bhangra
Size 190 Mb 
'Kings of Bhangra' from renowned soundtrack composer Gaurav Dayal lives up to its name, with 120 world class instrument and percussion loops in 5 construction kits, recorded on the finest instruments played by the most experienced musicians. This pack features a choice of ACID WAV, Apple Loops and REX formats.
From the producer of the immense 'Classic Bollywood' sample library, comes 'Kings of Bhangra', a multi format collection of 5 construction kits fusing traditional Indian musical elements with contemporary Bhangra.
Suitable for everything from Bollywood soundtracks, right through to contemporary Western pop with a world music vibe, this pack is an essential for the producer seeking to add authentic Indian spice to their productions.
In addition to the five stunning construction kits, there are also folders containing standalone percussion and instrument loops, featuring Algoze, Sarangi, Dhol, and Dholak samples to name a few.
All files are key and tempo tagged to maximise your work flow, and the ACID/Apple Loops files will conform to the speed and pitch of your DAW project.
Formats:
Both Mac and PC users are catered for, with Apple Loops and ACID WAV formats included. The REX files themselves cover every loop in this pack, not just the rhythmical elements.
About Gaurav Dayal:
Gaurav Dayal, 32, is a celebrated soundtrack composer hailing from New Delhi in India. His first record went platinum at the age of 21 with Punjabi Pop Icon, Jasbir Jassi. Gaurav soon followed this with hits like "Gabru" for Mika and many others. His recently worked on Shakira's "She Wolf" album with Wyclef Jean.
Gaurav composed the Music (Score & Songs) for movies "Say Salaam India" (2007) and "Sorry Bhai" (2008). He also has the most downloaded album, "Groove Punjab" (2008) ever to come out of India! He now runs Beatfactory Academy, India's first Professional Music Production Institute, where making music on Logic, Protools, Ableton Live , Sound Recording and Engineering techniques are taught.
Gaurav has been in and out of New York since 2005, producing music for people like Jerry Wonda (Wyclef-Jean, Shakira), TAZ (Stereo Nation), Fathy Salama (Grammy Winning Arranger). More and more international mainstream artists are now in line booking Gaurav for their music productions.
Aside from Bollywood Soundtracks, Gaurav also composes Rock, Pop, Jazz, Hip Hop, RnB, House, DnB and Dub. He has won countless awards and nominations in the "Bhangra Category" at the ETC Channel Punjabi Music Awards. Finally, he has worked with artists including K.K., Sunidhi Chauhan, Sonu Nigam, Shubha Mudgal, Kuldeep Manak, Surinder Shinda, Lehember Hussainpuri, Sardool Sikander, Jasbir Jassi, Mika, and many others.
24 Bit Quality
265MB
120 Files
17 Instrument Loops including Algoze, Sarangi, Tumba and Tumbi
69 Kit Files split into 5 Kits each including Full Audio mix
34 Percussion Loops including Dhol, Dhol ensembles, Dholak and Thad
*Apple Loops and Rex2 Loops packs available seperately
Demo Preview:
http://www.loopmasters.com/genres/36-Percussion/products/680-Kings-Of-Bhangra