PBB Orchestro – Classical Complextro & EDM Loops & FX WAV Size 293 Mb A new take on orchestral based EDM, Orchestro is an experimental loop and single hit library designed for the boundary pushing electronica enthusiast. Taking classical instrument phrases, stabs and movements, splicing them with dark bass and twisted momentum, to create a […]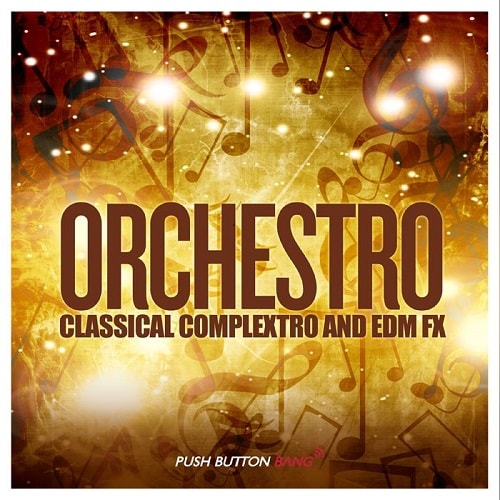 PBB Orchestro – Classical Complextro & EDM Loops & FX WAV
Size 293 Mb
A new take on orchestral based EDM, Orchestro is an experimental loop and single hit library designed for the boundary pushing electronica enthusiast.
Taking classical instrument phrases, stabs and movements, splicing them with dark bass and twisted momentum, to create a unique sound collection of weird and wonderful complextro-style combinations.
The loops content features 140 orchestral complextro loops key mapped at a standard 128 bpm, ranging in length from 2 to 8 bars.
Also included are 130 half-bar side chained repeat loops, which can either be used as fills inside your own sequence or looped to create pulsing EDM repeat pattern for all types of mid tempo house and electronica projects.
The single hit content features 220 instrument key-mapped single hits, a diverse collection of both organic, natural orchestral single instruments and group hits, dramatic stabs, bangs, synthetic parallels and mixes of both.
You will find many intriguing touches to add both natural and synthetic tones to your productions, all lovingly produced with the onus on usability inside an EDM project.
Push Button Bang invites you to create your own electro orchestra and boldly go where no composer has gone before.
Orchestro – Classical Complextro & EDM Loops & FX contains:
488 Loops and Samples
140 128BPM Full Loops
130 128BPM Half Bar Cuts
16 Big Hits
07 Choir Cuts
13 FX
54 Instrument Hits
33 Mixed Hits
20 Small Hits
Plus 1 Synth Chord Kit containing 75 Chord Hits
24 Bit Quality
420MB
Demo Preview: