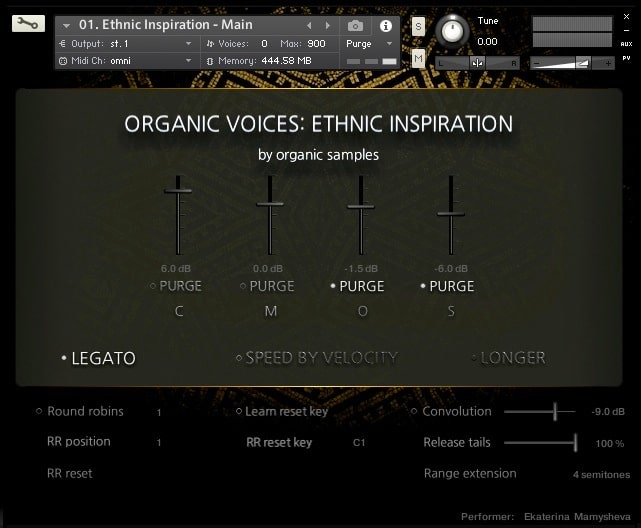 Organic Samples Organic Voices Vol.2 Ethnic Inspiration KONTAKT LIBRARY
Size 4.05 Gb
"Organic Voices Vol. 2: Ethnic Inspiration" is the result from a stunning sampling experience.
​Our goal was to capture the power of this unusual singing technique and make an inspiring tool out of these recordings.
​The rawness and expressiveness from these sampling sessions, at your fingertips.
​OVERVIEW
​​Extensive true legato sampling & a new standard for realism ​
​4 microphone positions (Close, Mains stereo, Outriggers, Surround)
​"Ah": actually recorded range from F3-C#5, synthetically extended range to D3-F5
​Recorded in a large hall to capture natural reflections
​Also dry patches without reverb for more flexibility
​​Pre-mixed patches for an instant full sound out-of-the-box
​Speed by velocity functionality​
​Engine analyzing in real-time the playing to trigger natural releases (no infinite loops)
​​Short and longer legato samples, which affect the moment of the natural release trigger
​Same note repetition samples
​2x RRs via neighbours zones
​Lite patches and option to purge any microphone position
​4 different interval attacks (from one major 2nd down to one major 2nd up)
​Option to switch between accentuated and soft release samples
SPECIFICATIONS
​10 GB of uncompressed .WAV samples
​​24 bit / 48kHz sample resolution
​4142 samples
​FULL version of Kontakt 5.5.1 or later required
LinksDemo Preview: