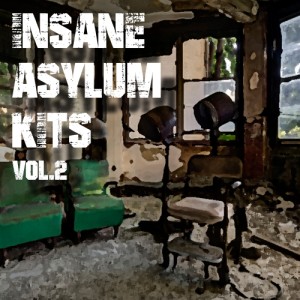 Music Weapons Insane Asylum Kits Vol 2
Size 62 Mb 
There is nothing normal about this kit, it is split into two sections.
Sedated and Padded Room.
The sedated side isn't all that normal itself tons of bangin kicks and snares etc to more than satisfy the slightly disturbed hiphop producer in you.
The padded room side…well that caters to the more crazy side.
Totally bonkers kicks snares sfx etc with a hint of evil madness.
It is in standard 16-Bit 44.1 Khz WAV Format and can be used in any software or hardware.
This Kit Includes:
• 30 Sedated Kicks
• 27 Sedated Hats
• 40 Sedated Snares
• 10 Sedated Cymbals
• 22 Sedated SFX
• 5 Sedated Drum Loops
• 40 Padded Room Kicks
• 40 Padded Room Snares
• 30 Padded Room Mid/Perc
• 24 Padded Room SFX
• 5 Padded Room Drum Loops
Demo preview:
http://sounds.beatport.com/pack/insane-asylum-kits-vol-2/12551