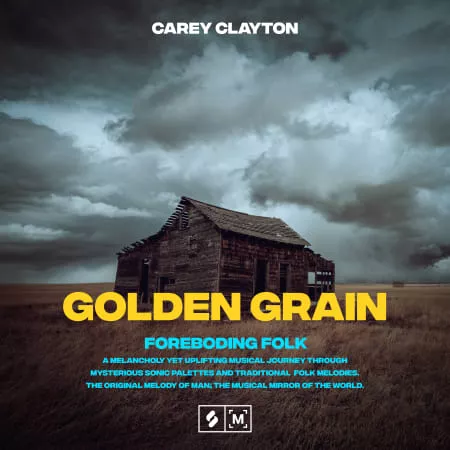 Montage by Splice Golden Grain: Foreboding Folk WAV
The scene is set – a lonely old house sits marooned on a hilltop amongst flowing waves of golden fields as far as the eye can see. A storm is building, ravens are cawing, and a foreboding chill fills the air. Songwriter, producer, and multi instrumentalist Carey Clayton has captured a truly powerful musical underworld ready for your exploration.
Dramatic, picturesque, moving, and profound – Golden Grain: Foreboding Folk is a mysterious palette of gloomy folk sounds built for a cinematic destiny. Loops of harrowing cello and an angelic choir provides an ominous background and establishes a curious melancholy mood. Layers of plucked guitar, luxuriant pads, and sorrowful piano give this pack a bitter-sweet mixture of uplifting melodies and dark emotions. Work these samples into your film score in need of a dramatic twist or evoke a sense of unknown wildness into your next track. This music undoubtably sets the stage to tell a compelling story, but it's up to you to decide where the story goes.
256 Samples
Demo Preview: