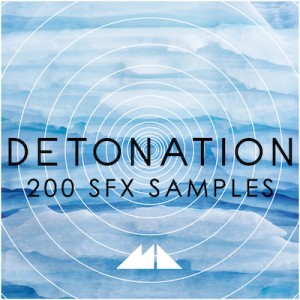 ModeAudio Detonation SFX Samples
Size 332 Mb 
Hear the searing, hot rush of volcanic debris as it rockets through the sky and the deep, quaking impact of immense chunks of rock colliding with earth and sea – oh yes, it's time to prepare your music for the sensory SFX overload that is Detonation – SFX Samples!
Built to deliver the perfect amount of uplift, drama, tension and release at the key moments in your music productions, this sample pack release contains everything from the sound and fury of experiments too explosive for the lab, to the dazed, lilting lull of the aftermath!
Packing in a whopping 200 of our very best SFX Samples, your track may just be crying out for the punch that this SFX extravaganza lands. The sound effects included encompass 30 kinetic, unstoppable Reverses, 30 foundation-rattling Sub Drops, 25 sky-scraping Risers, 35 mesmerising, powerful Swells, 28 futuristic Bleeps & Glitches and, of course, 52 cataclysmic, complex and chaotic Impacts & Explosions!
Alongside all this titanic SFX power, we've included 12 SFX Sampler Patches assembled for your favourite DAW, so you can dish out the drama straight after download. Production ready and mixed and matched for variety and inspiration, the shapes, contours and colours contained within these sampler presets will both send your music up and keep it flying through the sky.
It's time to shake up the foundations of your music – push the button and let it rip with Detonation – SFX Samples!
Pack Contents
28 Impact Samples
24 Explosion Samples
30 Sub Drop Samples
35 Swell Samples
30 Reverse Samples
25 Riser Samples
28 Bleep & Glitch Samples
12 SFX Sampler Patches
Download:
Zippyshare
Demo preview: