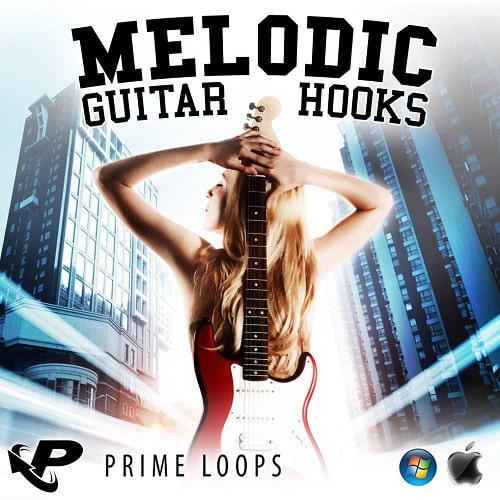 Melodic Guitar Hooks WAV
Size 210 Mb
Kick out the jams with "Melodic Guitar Hooks", the glowing hot guitar sample pack fresh from the Prime Loops audio lab! We've been surfing our fretboards to bring you an epic array of home grown Guitar Samples, lovingly crafted to fit snuggly in your next smash-hit anthem across a vast ocean of genres!
This ultra-melodic collectionof Guitar Samples captures all the strummed and plucked Pop, Rock and R&B class of today, from the strings of Gotye, Ed Sheeran and Rizzle Kicks to Adele and Arctic Monkeys – these riffs are more up-to-date than the clock!
From light and airy acoustic arpeggios to manic bursts of electric energy, these catchy hooks guarantee to shake up your sound. Made using only the best and most iconic guitars around, this genre-spanning selection boasts gleamingly smooth electric flavours, crisp acoustic incantations, distorted stadium-ready debauchery, punchy funk and so much more! Whether working to the recipe of a specific genre or experimenting with something new, "Melodic Guitar Hooks" provides the freshest ingredients available!
Many of the 140 tasty licks featured in "Melodic Guitar Hooks" have been arranged in groups from 2 to 5 sounds, giving you the option to slip a sneaky riff into an existing track or build entire anthems from scratch! The loops are split across 3 folders:
– Ballad Hooks [75-90BPM]: steady the tempo with some sweet lulling tones for your Pop and R&B jams.
– Steady Riffs [95-115BPM]: keep it solid and roll out some funky R&B licks amongst some big Rock riffs.
– UpBeat Jams [120-140BPM]: pump up the beat and throw some agile and energetic chord progressions and sleek notes into the mix.
This pack is instantly available via direct download and all 340MB are 100% royalty free. You'll even save money on strings! So if you're looking for a diverse selection of 6-string sounds without working your fingers to the bone, get your hands on "Melodic Guitar Hooks" now! From John Mayer to Santana by way of Jimi Hendrix, this ultimate guitar sound library guarantees to add some Rock and Pop melody to your tracks!
Melodic Guitar Hooks contains:
44 Ballad Guitar Loops
53 Rock Guitar Riffs
43 UpBeat Guitar Loops
24 Bit Quality
340MB
Demo Preview:
<