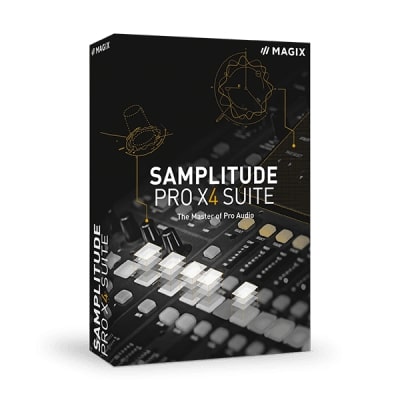 MAGIX Samplitude Pro X4 Suite v15.2.0.382 WIN
Size 0.98 Gb
Samplitude Pro X Suite provides the highest level of quality for recording, mixing and mastering tasks, as well as for music production. With professional effects, efficient editing functions, as well as a powerful audio engine, the latest version continues to set new standards in the professional audio sector. The Suite is impressive with its additional features such as DDP handling and the full version of audio editor SOUND FORGE Pro 11. Read more: https://www.magix.com/us/music/samplitude/suite/ Follow us: Google+ | Facebook
Recording & editing
Work at the highest level of audio quality, even in complex recording sessions. Absolute sound neutrality and optimal latency management enable professional, ultra-precise studio recording.
Music production
Extensive options for producing scores, advanced functionality for MIDI editing and numerous virtual instruments. There's inspiration in each and every high-quality detail.
Mixing & mastering
Record complex projects and work on large arrangements with intuitive mixing, flexible routing and seamless automations. The high-quality mastering effects offer optimal support for mixing and mastering.
Highlights
Highest audio quality for recording studio tasks
NEW! Automation Lanes for an optimal overview of track automation data
NEW! New plug-in browser for quick searches for effects and instruments
NEW! Improved performance: Samplitude now supports CPUs with up to 32 cores
NEW! New MIDI editing functions and improved MIDI workflow
Exclusive in the Suite version: SOUND FORGE Pro 11 full version
22 virtual instruments and Independence Pro Premium sampler full version
Samplitude Pro X4 15.2.0.382 Changelog:
Keyboard shortcuts for sub menus of main menu
a shortcut can be assigned to a sub menu
with less shortcuts more functions are easier and faster accessible this way
in case that there is no (underlined) shortcut for a command in a sub menu, a shortcut will be assigned automatically
examples
automation mode: just one shortcut to switch between all automation modes
grid menu: missing entries from grid toolbar menu are available from main menu now and can be reached with this
new function
Import / Export / Load / Save
realtime bouncing for surround available
loading of 32 bit wave files with WAVE_FORMAT_EXTENSIBLE
AAF
problems with importing object gain (including automation) – fixed
problems with certain (non ASCII compatible) file names – fixed
improved multichannel file import
sometimes wrong object lengths after AAF export – fixed
support for logarithmical fades
crash when opening from Video Pro X – fixed
error when writing umlauts or other special characters in ID3 editor in AAC, FLAC and OGG files
issues when importing soundpools from Music Maker (e.g. 60s – Revolution) – fixed
Track Delay handling
beginning of tracks with positive track delay is no longer truncated during bounce
playcursor / peakmeter are now synced to undelayed audio
Performance
performance display maximum value considers anticipatory calculation
problems with playback stop at range border – fixed
crashes during change of ASIO buffersize (especially in surround projects) – fixed
Mixer / FX
primary track output can now be deactivated in aux section
ARA
new memory consumption display and ARA-file-flushing function in project status info
object fades are calculated after ARA by default
issues with freeze after unfreeze – fixed
Plug-in browser
text filter considers folder (meaning e.g. categories can be searched now in catergory mode)
Surround
internal surround effects are additionally available in "surround" category
fallback without plug-in browser didn't work properly – fixed
categories are now sorted in alphabetic order
issues with plug-in browser while wave editing – fixed
Object editor
volume fader jumped with first click – fixed
VST
no mono configuration in mono tracks – fixed
VST3
missing surround format transmission to VST3 plug-ins – fixed
correct stereo initialization was missing for certain plug-ins – fixed
offline processing mode was not transfered to plug-ins – fixed
issues with sidechain handling for VST3 Plug-ins – fixed
Attention: these changes may cause audible sound changes when loading older projects.
diverse performance optimisations
Spectral Cleaning (only for Samplitude Pro X4 Suite and Pro X4 with activated C&R Suite)
switch for changing linear and logarithmic frequency scaling is available now
Automation
commands for "edit selected curve" are available now in automation lanes menu
wrong start values for surround automation – fixed
Routing manager
optimizations regarding surround
active track is highlighted
Visualization
switching between stereo and surround master possible
peakhold time for spectroscope is adjustable
MIDI
MIDI Editor
missing refresh of PPQ format after changing it in project options – fixed
duplicating MIDI notes now including linked CC automation
improved selection controller for small horizontal sizes
mouse wheel support for MIDI controls in trackhead
when adding multi channel VSTi new tracks are always inserted directly below current track
improved handling for extending the left object edge (e.g. improved undo)
Docking
shortcut handling improved for closing docked windows
Arranger
more consistent behavior of volume/pan controller compared to mixer
value boxes in arranger can be adjusted by long left or right click
missing update of Vol/Pan value boxes in arranger during automation – fixed
missing MIDI volume functionality in track editor and mixer – fixed
access to fadeout curve shape when right click on fade out handle
selecting objects of a track could accidently select objects of another track – fixed
when inserting new tracks, an unused recording device will be assigned if available
Append track: routing of existing tracks is applied now
Bug fixes
issues with column width in track manager – fixed
track manager: missing updates after sorting tracks – fixed
EN: german texts of invisible dialogs have been audible with screen reader – fixed
TS/PS crashes – fixed
toolbar button for old realtime mode has been removed
crash when closing the program – fixed
additional record offset of one ASIO buffer – fixed
issues with folder handling of recorded objects in interleaved files (grouped editing, take management) – fixed
problems during attempt to rename files in object editor – fixed