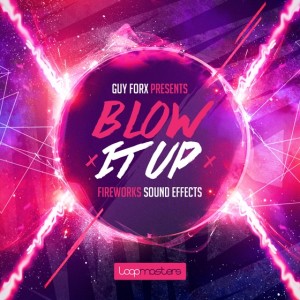 Loopmasters Guy Forx Presents Blow It Up
Size 108 Mb 
Guy Forx presents Blow It Up – a one off collection of Royalty Free explosive effects recorded at firework displays in the UK and India, released to coincide with annual commemoration on November the 5th when people in the UK attend bonfires and put on firework displays to remember the foiled gunpowder plot in 1605.
Every element of the displays have been recorded – including multiple cluster explosions, the classic sounds of the screamer, white noise crackles and mechanically launched rockets. Guy Forx AKA Midierror has gone the extra mile to record the displays from multiple angles – from high vantage points – giving you a long natural ambient reverb, and from close on the ground – giving you the impact and huge sound of the explosions building to the grand finale.
While visiting the Thar Desert in India, Midierror had the opportunity to record the Diwali celebrations from the rooftops of the Golden city of Jaisalmer – giving you an insight into how fireworks are done in the East! Each sample has been expertly edited to keep the ambience generated, while reducing background noise to a minimum. The natural ambiences may also be used as convolution reverbs impulses for other musical applications.
In detail expect to find 145 Single Hit Wav files in the following categories – Diwali, Clusters, Crackles, Double Bangs, Launches, Multi Bangs, Muted, One bangs and Screamers. Also included are 4 long audio files of 28-42 seconds, which may be used as background FX or in more experimental ways.
Pitch up the best spot around the fire and Join Loopmasters for a crackling collection of high fidelity FX samples, individually edited and conveniently organised to make your music stand out from the crowd… a crowd that is who are standing well back that is.
Content:
145 Wav Sound Effects
Demo preview:
http://www.loopmasters.com/genres/46-FX/products/4340-Guy-Forx-Presents-Blow-It-Up