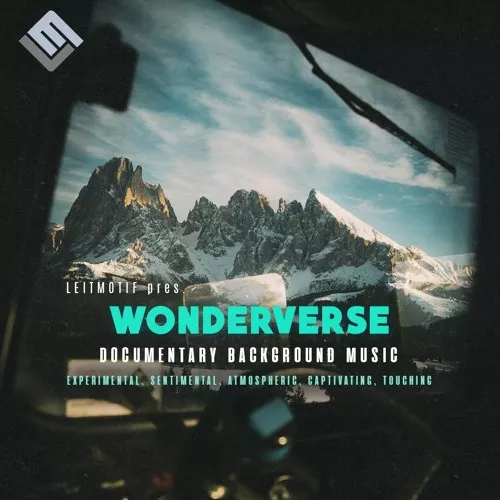 Leitmotif Wonderverse: Documentary Background Music WAV MIDI
Wonderverse: Documentary Background Music – featuring fresh and unique sounds that will help you to set or indicate the mood of a scene, ready to add a distinctive atmosphere to the action and evoke emotions being portrayed on screen. Just choose the right sounds, add them into your productions, and get ready to capture your audience's attention with these soft, flowing, pulsating, dark, and deeply ambient sounds!
In documentaries, the right music at just the right moment can dramatically enhance the emotional impact of a scene. So, when you are working on this kind of project, you need to find the perfect sounds to enhance excitement, a moment of calm, or perhaps a sense of amazement. Wonderverse is designed to emphasise the action and help you to maintain a rhythmic balance throughout.
Featuring all the necessary elements you'll require such as magical ambiences, soothing atmospheres, hypnotic basses, mesmerising sound effects, grainy broken beats, evolving tonal drones, gentle pianos, enigmatic pads, emotional leads, innovating whooshes, cinematic stingers, swells, inspirational cue-starters, balafons, kalimbas, cellos, steel pans, and more. Check out the full specifications below for more details.
You can use the power of sound to enhance the atmosphere of your scenes, guide viewers through the emotional highs and lows of the story and make the emotive punches more potent throughout the project.
All the sounds in this library are perfectly categorised and labelled to make it easy for you to find them, speeding up your workflow. You can use these sounds as they are or mix and match them with other elements from this collection to create your own ideas.
Wonderverse can be used for creating music for documentaries, for background underscores, deep meditation and calming music compositions, cinematic projects, short films, trailers, within the advertising world, and beyond.
So, are you ready to transform real, raw moments into perfect harmony with elegant and graceful sounds? Sit back in awe at Wonderverse!
Any references to any brands on this site/page, including reference to brands and instruments, are provided for description purposes only. For example references to instrument brands are provided to describe the sound of the instrument and/or the instrument used in the sample. Loopmasters do not have (nor do they claim) any association with or endorsement by these brands. Any goodwill attached to those brands rest with the brand owner. Loopmasters or its Suppliers do not accept any liability in relation to the content of the sample or the accuracy of the description. "RHODES" is a registered trademark of Joseph A Brandstetter.
Pack details:
1.52 GB
437 Total Files
24-Bit / 48kHz WAV
24-Bit / 96kHz WAV (Sound Effects)
14 Ambiences
19 Atmospheres
16 Basses
22 Drones
216 Drums
14 Inspirational
77 Melodics
59 Sound Effects
Demo Preview: