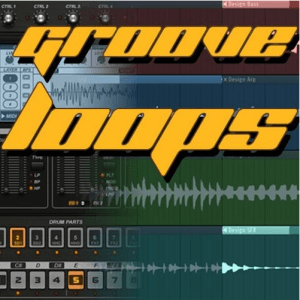 Image-Line Groove Loops
Size 33 Mb 
Groove Loops brings you a fun set of 134, 4 bar melodic and drum loops in various genres from dubstep to house.
Tight and punchy loops for your projects
Sourced from projects contained in the Groove Machine plugin and Groove Machine Mobile app, these royalty free loops allow inspirational usage in the full FL Studio. The sliced loops are ideal for use in the Slicex plugin. Rearrange the playback order of slices or apply creative envelopes for example. Un-sliced loops for easy drag and drop to the playlist as audio clips. Melodic loops are based on the musical key of A for easy mix and match of different parts playing together.
A giant FL Studio Performance mode project brings all the sliced loops together for performance or production. (2 versions of the same project saved for use in FL 11.1.1 or FL 12.1.3). Freely change the tempo, master pitch of the melodic elements or the amount of swing (FL 12 only) in real time. 6 tracks of clips apply creative audio effects to the melodic parts or drum parts separately. Stutter, scratch, reverse, slow down, filter, delay or reverberate the audio from a single press of a clip. (Gross Beat and Maximus are used in this project but are not essential).
68 score files allow you to play the melodic and drum note patterns with your own instrument plugins.
134 sliced wav loops
134 un-sliced wav loops
68 FL Studio format score files
1 FL Studio Performance mode project compatible with FL 12.1.3
1 FL Studio Performance mode project compatible with FL 11.1.1
92 One shot drum samples
90 One shot synth samples
90 Corresponding sampler channel presets
Wav format: 44.1 kHz, 32bit float, built in tempo sync information.
Download:
Zippyshare
Demo preview:s: