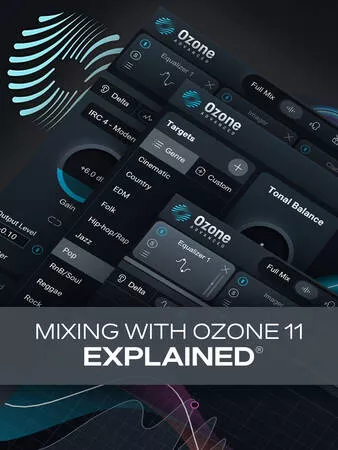 Groove3 Mixing with Ozone 11 Explained TUTORIAL
Many people know that Ozone 11 is one of the most popular mastering suites out there, but did you know that you can also use it to mix a track as well? In this Ozone video course, studio wizard Larry Holcombe will show you how all the incredible tools in Ozone 11, such as Stem Focus, Imager, Maximizer, Dynamic EQ, and more, can help you create top-rate mixes quickly and easily. From adding punch and saturation to improving clarity and vocal balance, you'll learn plenty of easy-to-use tips and strategies that you can apply right away. These videos are for users new to Ozone 11.
Larry begins by introducing the course and briefly outlining what will be covered before diving into the first topic: the Stem Focus feature. Learn how to use Stem Focus to isolate individual instruments from full stereo samples and create parallel processing channels for bringing out vocals, drums, and bass. Then discover how, by using transient EQ, saturation, and imaging, you can add punch and clarity to a rave-style drum part.
Next up, explore the new Vocal Balance feature, which, via AI analysis, will help you sit the vocals perfectly in the mix so that they stand out without masking other parts. You'll also see how the Transient/Sustain module can be used to clean up a drum loop by shaping the transients and helping to clear up space for other elements to be heard.
Plenty of more tips follow, such as NY processing on a kick (parallel chains of Ozone 11 in transient mode), drum clipping (using Maximizer), mid/side Dynamic EQ (for separation), Vintage EQ (Pultec-style equalization), stereo bass (with Exciter and Imager), creating a loud master, and much more!
Ozone 11 is not just for mastering anymore! With this Ozone 11 course, Larry will make that exceptionally clear, and your mixes will sound far better for it, with a whole flock of new smart tools at your disposal. Check out the individual Ozone 11 video tutorial descriptions for more information on how this formidable suite can improve your mixes as well as your masters. Learn to make the absolute most of what you have… watch "Mixing with Ozone 11 Explained®" now!
What You Will Learn:
How to use Stem Focus to isolate instruments from mixed samples so that they can be processed separately
Using the Transient/Sustain module to shape transients, add punch and clarity, etc.
Applying Dynamic EQ in mid/side mode to create separation and space
How to create a loud master using several instances of Maximizer at different points in the signal chain
And much more!