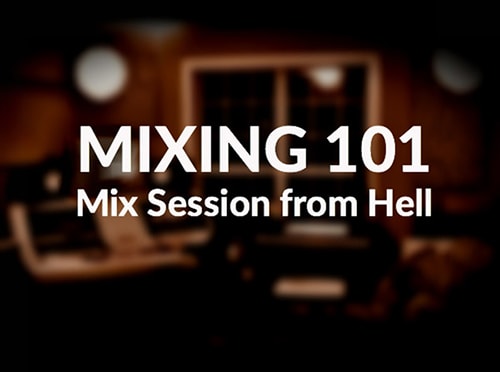 Groove3 Mixing 101 Mix Session from Hell
Size 2.73 Gb 
Watch Multi-Platinum Mixer and Producer Kenny Gioia show you how-to mix a song from beginning to end. Join him on his quest to take a challenging bunch of tracks and turn them into something not only presentable, but competitive with anything on radio or within this pop rock genre.
Over five and a half hours of educational videos plus the original RAW tracks so you can mix them yourself.
Mix Session from Hell
1. Introduction (2:11)
2. Re-Ordering, Colors & Track Re-Naming (11:38)
3. The Rough Mix – Markers & Tempo (16:54)
4. Track Clean-Up, Clip Gain & Split Mono (12:22)
5. Master Buss FX (14:51)
6. Basic Vocal Sound (17:07)
7. Guitar Amp Sims (18:47)
8. Basic Drum Sound – Ride Mic (14:49)
9. The Drum Overheads – (7:19)
10. The Room Mics (8:12)
11. Kick Drum (16:34)
12. Snare Drum (20:42)
13. Drum Reverb (8:52)
14. The Toms (10:15)
15. The Ride Cymbal (5:29)
16. Drum Buss EQ and Parallel Compression (10:23)
17. The Bass Sound – Sub-Mixes – VCA (18:11)
18. The Guitars (29:04)
19. Acoustic Guitars – (7:16)
20. Lead Vocals – Clip Gain – (8:26)
21. Lead Vocals – EQ & Compression – (5:34)
22. Lead Vocals – De-Essing (10:47)
23. Bridge Vocal FX (4:25)
24. Background Vox (5:17)
25. Dividing Tracks and Panning (15:19)
26. Automation (19:36)
27. Final Mix (4:01)
Total Runtime 5:32:19
Mega