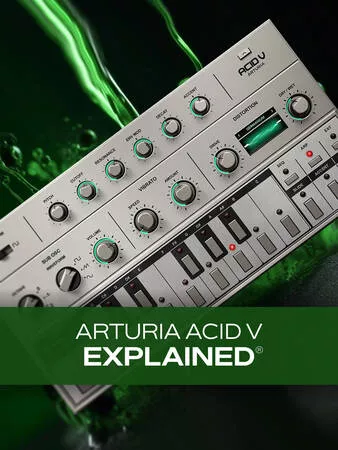 Groove3 Arturia Acid V Explained TUTORIAL
Join synth expert Tyler Coffin for a detailed look at Arturia's Acid V virtual bass synth, which faithfully recreates the famous TB-303 hardware synth that was so instrumental in the creation of acid and house music. In this Arturia ACID V video course, you'll learn about all the features and controls—including the sequencer, modulators, effects, and more—so quickly and thoroughly that you'll be ready to start adding it to your very next production! These videos are for new Acid V users.
Tyler begins by providing a bit of history and background information on the original TB-303 and its legacy, so you'll better appreciate what the Acid V is capable of and what it's aiming for. A brief tour of the interface follows so that you are aware of where everything is as we move through the course. Then Tyler will walk you through the main controls of the Acid V, where you'll find the oscillators, filter, envelope, pitch, octave controls, and more.
Next, start exploring "under the hood" with the Advanced panel, where you'll have access to the 64-step sequencer. This is also where Arturia's additions to the original can be found, such as the three multi-mode function generators that afford flexible modulation opportunities and the four effects slots (17 effects from which to choose)!
Tyler will also demonstrate how to navigate the browser and audition the presets for when you need to get started quickly. Then follow along as he builds several sounds from scratch—acid bass lines and more experimental sequences—so you can see exactly how it's done!
If you're into producing acid electronica, or any genre that needs the legendary TB-303 sound, you don't want to miss this Arturia Acid V video course. You'll learn all you need to know to create those nasty, squelching bass lines and intense sequences for your very next track. The individual Arturia Acid V video tutorial descriptions will provide more information as well as other ideas on how you can implement Acid V in your own setup. Don't settle for anything less… watch "Arturia Acid V Explained®" today!
What You Will Learn:
History and background on original TB-303 hardware unit
Location and operation of all stand controls, such as the oscillators, pitch, vibrato, distortion, filter, etc.
How to create, tweak, and edit sequences with the built-in sequencer
Adding various types of modulation with the three function generators
And more!