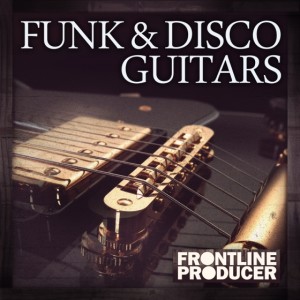 Frontline Producer Funk and Disco Guitars
Size 487 Mb

Frontline Producer proudly presents Funk and Disco Guitars – a one stop shop of funk-fuelled Electric Guitar Loops for all seasons. Delivering another collection of professionally recorded content, Frontline Producer is here to put a bit of Chic into your music!
Funk and Disco guitars has been recorded exclusively for Loopmasters by Andy Baker and is brimming with content, categorised into music keys at tempos to suit all productions. Inside the pack you will find Riffs, Rhythms, Bass, Leads and Arps which work together as interchangeable parts in conveniently organised musical keys. For an added musical dimension, each key folder has two variations – played at the same tempo but in a different style. This means you have all the elements you need for your Intro, Verse, Chorus and Bridge in one pack!
In addition, we have included `Tail' recordings which allow the final chords to ring out – and give you the perfect backing for transitions. Various playing techniques are used including picked strings, octaves and of course the use of the wah-wah pedal. Funk and Disco Guitars are between 95-140BPM, making them perfect for Funk, Disco, House, Funky House, Breaks, Hip Hop and loads of other Genres!
In detail expect to find 1.06GB of content with 246 individual WAV Loops – 40 Bed Loops, 56 Riffs, 11 Octaves, 15 Rhythmn, 18 Bass, 11 Leads, 26 Chords, 22 Tails, 17 Picks, 6 Melodies, 5 Arps and 19 Bonus Loops. An additional 256 Rex2 files and 187 Apple Loops are included.
Amongst the equipment used was: CryBaby Wah, Effectrode Compressor, Ibanez Tube Screamer, Paul Cochrane TIM Overdrive, Pete Cornish P2 Fuzz, MXR Phase90, EHX MicroPOG, Eventide Pitch Factor, Strymon Mobius, Strymon TimeLine, Eventide H9 and the Pedalboard GigRig G2.
Become a renegade of Funk with the latest pack form Frontline Producer – Download the Free Taster pack, and check out the demos now!
Product details:
1.06 GB
24Bit 44.1KHZ
59 Riff Loops
40 Bed Loops
32 Chord Loops
28 lead Loops
18 Bass Loops
18 Pick Loops
15 Rythm Loops
14 Fx Loops
11 Octave Loops
8 Arp Loop
3 Wah Wah Loops
Demo preview: