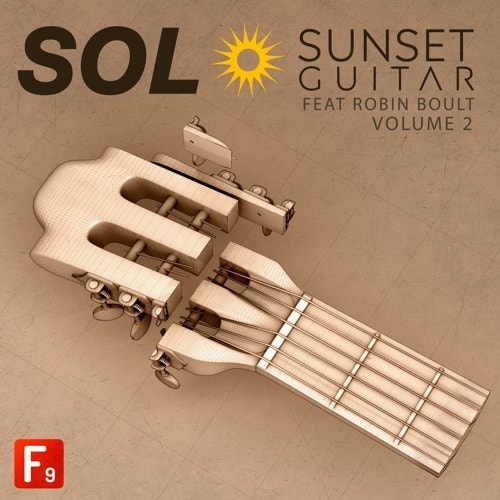 F9 Audio SOL V2 Sunset Guitar Feat Robin Boult
Size 2.69 Gb 
F9 Audio is proud to present : SOL Vol2 – Sunset Guitar featuring the virtuoso talents of Robin Boult . SOL V2 is a stunningly Balearic collection of Spanish nylon guitar loops Solos and phrases perfectly complemented by just under 1Gig of Chilled out Music, Drums and FX that pays homage to 30 years of sun blissed Downtempo music.
It's hard to think any any instrument that feels more at home in the world's sunset bars than the solo Spanish guitar as It's sound instantly places you around the Southern parts of Europe's coastline or the around the fascinating lands of South America. Robin's playing has been on cycle in these bars since the release of his Itch project and we are very lucky to have secured this extensive collection of recordings for the production community.
Perfectly recorded using a Neumann M147 Valve mic , API 512 + Neve 1081 passing via an HCL Valve compressor, SSL EQ and GML 8900 Dynamics controller into an Apogee Symphony Interface every care has been taken to make sure these loops jump to the front of your production but don't feel over-processed or brittle when laking the lead. For this release we have created many extended guitar loop audio files, some more than 8 bars long allowing for easy solo creation and layering
After feedback from the F9 Customer base we have included every sound you can hear in the 6 Audio demos that grace this pack and we have gone all out to provide a perfect sonic accompaniment to Robin's nylon solo and rhythm parts . To provide the warmth and authenticity needed we have sourced the musical parts from an original and vintage equipment including a TR-808, Jupiter 8, Hohner Pianet, Juno 60, Prophet 6, Fender Jazz bass and augmented by the world's best software.
– A stunningly Balearic collection of Nylon Guitar loops, Solos and phrases mixed with just under 1Gig of Chilled out Music, Drums and FX sourced from an original 808, Jupiter 8, Hohner Pianet Juno 106 Prophet 6 Fender Jazz bass and the world's best software.
– Deluxe DAW Editions contain 24 Menu Patches with every riff and strummed part pre-chopped up and laid across the Keyboard . The Kontakt versions of these patches will lock to your project tempo . These patches use 1035 individual Nylon Guitar riff samples
– Far more than 1 or 2 bar loops – It is possible to build entire solos using this pack
– Extended Solo Loops
WAV Pack Specs:
386 24bit Nylon Acoustic Guitar loops
206 24 Bit Music, Drum and FX loops
105 Drum + FX Sounds
395 RX2 loops
Full PDF Manual
Ableton Live 9.5 + ( Suite + Standard ) Deluxe edition Specs:
– 386 24bit Nylon Acoustic Guitar loops
– 24 Tempo Locked Live racks with 1035 individual samples pre-key mapped
– Full Kontakt Library 24 Instruments + Custom GUI ( Full version of Kontakt 5.2.4 required )
– 206 24 Bit Music, Drum and FX loops
– 105 Drum + FX Sounds
– 395 RX2 loops
– Full PDF Manual
Openload
Demo Preview: