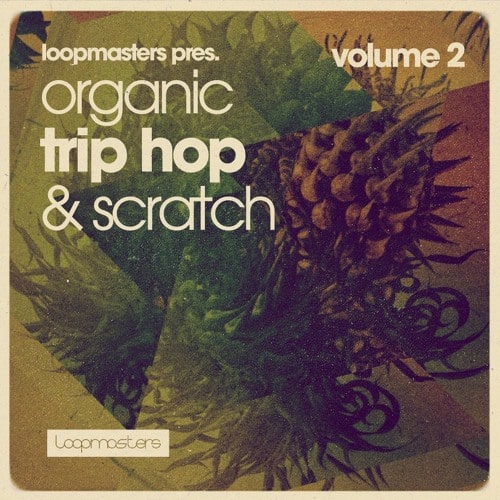 Dubmatix Organic Trip Hop & Scratch Vol.2 MULTIFORMAT
We proudly present Organic Trip Hop & Scratch 2 – the sequel to the most authentic Trip Hop sample collection to date. The outcome is a symphony of Trip Hop that is sure to inspire the new generation of dark Hip Hop soldiers for now and long into the future. Expect to hear Crunchy Beats, Epic Cinematic Melodies and seriously Heavy Bass. Ready and waiting to be used and abused by Experimental Beatmakers everywhere all 100% royalty free!
Organic Trip Hop & Scratch 2 sees the return of the talents of industry heavyweight Dubmatix bringing the beats, melodics and Dubs alongside turntablist Illorn who got busy scratching and remixing the audio for that authentic 90s Bristol vibe.
Irie Magazine recently featured Dubmatix, saying: "The prolific Canadian composer, producer, multi-instrumentalist and seven-time JUNO Award winner and nominee hails from Toronto but has carved out a massive following on the international stage. He is a recording machine, from his debut release Champion Sound Clash in 2004, the Toronto-born Dubmatix has gone on to produce and record a mind blowing 500 releases + to date & counting!"
Producers should expect to find a gargantuan 2.24GB of content with Loops, One Shots, Sampler Patches and . Inspired by the classic Trip Hop sound favoured by greats such as Massive Attack, Portishead, Morcheeba and Nightmares On Wax. The full and weighty drum beats can be combined with the bass and FX loops for a cone-melting, dubbed-out sound, whilst the guitar, vocal and synth loops can be thrown into any track for instant atmospherics.
At tempos from 69bpm to 145bpm this timeless collection is perfect for its named genres as well as Hip Hop, Downtempo and any related genres.
In detail, expect to find 2.24 GB of content with all Wavs recorded at 24Bit & 44.1kHz. 437 Loops are broken down as 35 Drum Loops, 29 Synth Loops, 21 Vocal Loops, 20 Fx Vocal Loops, 17 Synth Bass Loops, 14 Kick Snare Loops, 14 Hat Loops, 11 Arp Loops, 12 Fx Loops, 10 Kick Loops, 10 Snare Loops, 10 Pad Loops, 9 Sub Bass Loops, 9 Top Loops, 8 Electric Bass Loops, 7 Drum Roll Loops and 6 Guitar Loops, 34 Scratch Synth Bass Loops, 34 Scratch Synth Loops, 19 Scratch Fx Loops, 19 Scratch Snare Loops, 17 Scratch Hat Loops, 16 Scratch Top Loops, 11 Scratch Electric Bass Loops, 11 Scratch Pad Loops, 10 Scratch Vocal Loops, 9 Scratch Kick Loops, 6 Scratch Kick Snare Loops, 3 Scratch Drum Roll Loops, 3 Scratch Guitar Loops and 3 Scratch Sub Bass Loops. 151 One-Shots are broken down as 64 Drum Hits, 34 Scratch Perc Hits, 16 Instrument Hits, 15 Bass Hits, 13 Vocal Fx and 9 Atmos & Pads. Also included  46 Soft Sampler Patches (for Halion, NNXT, Kontakt, EXS24 and Sfx) and 1 Bonus Beat Scratch Stem.
Bringing together all the elements of the Trip Hop sound into one flawless space, Organic Trip Hop & Scratch 2 is certainly an unmissable collection of sounds for any producer interested in bass heavy and atmospheric explorations.
24Bit 44.1KHZ

35 Drum Loops

29 Synth Loops

21 Vocal Loops

20 Fx Vocal Loops

17 Synth Bass Loops

14 Kick Snare Loops

14 Hat Loops

11 Arp Loops

12 Fx Loops

10 Kick Loops

10 Snare Loops

10 Pad Loops

9 Sub Bass Loops

9 Top Loops

8 Electric Bass Loops

7 Drum Roll Loops

6 Guitar Loops

34 Scratch Synth Bass Lps

34 Scratch Synth Lps

19 Scratch Fx Lps

19 Scratch Snare Lps

17 Scratch Hat Loops

16 Scratch Top Loops

11 Scratch Electric Bass Lps

11 Scratch Pad Loops

10 Scratch Vocal Lps

9 Scratch Kick Lps

6 Scratch Kick Snare Lps

3 Scratch Drum Roll Lps

3 Scratch Guitar Lps

3 Scratch Sub Bass Lps

64 Drum Hits

34 Scratch Perc Hits

16 Instrument Hits

15 Bass Hits

13 Vocal Fx

9 Atmos & Pads

46 Soft Sampler Patches

1 Bonus Beat Scratch Stem
Demo Preview: