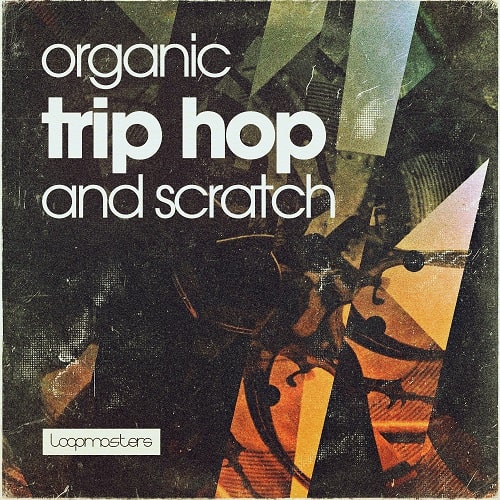 Dubmatix Organic Trip Hop & Scratch MULTIFORMAT
We proudly present Organic Trip Hop & Scratch; a comprehensive collection of Trip Hop that flows from ethereal heights to the dark and bass driven depths of the underworld whilst covering all ground in-between and is probably the most authentic Trip Hop sample collection to date. Ready and waiting to be used and abused by Experimental Beatmakers everywhere all 100% royalty free!
Organic Trip Hop & Scratch sees the talents of industry heavyweight Dubmatix bringing the beats, melodics and Dubs alongside turntablist Illorn who got busy scratching and remixing the audio for that authentic 90s Bristol vibe. The outcome is a symphony of Trip Hop that is sure to inspire the new generation of dark Hip Hop soldiers for now and long into the future. Expect to hear Crunchy Beats, Epic Cinematic Melodies and seriously Heavy Bass
Irie Magazine recently featured Dubmatix, saying: "The prolific Canadian composer, producer, multi-instrumentalist and seven-time JUNO Award winner and nominee hails from Toronto but has carved out a massive following on the international stage. He is a recording machine, from his debut release Champion Sound Clash in 2004, the Toronto-born Dubmatix has gone on to produce and record a mind blowing 500 releases + to date & counting!"
Producers should expect to find a gargantuan 2.41GB of content with Loops, One Shots, Sampler Patches s. Inspired by the classic Trip Hop sound favoured by greats such as Massive Attack, Portishead, Morcheeba and Nightmares On Wax. The full and weighty drum beats can be combined with the bass and FX loops for a cone-melting, dubbed-out sound, whilst the guitar, vocal and synth loops can be thrown into any track for instant atmospherics. As is to be expected, the production quality here is second to none.
Alongside the clean loops there are 189 unique scratched versions performed by Illorn live here at the studio. These can be used alongside the clean versions to get that DJ performance feel to your production and are intrinsic to the sound of Trip Hop. Expect to find scratch performances of Breaks, Instruments and Bass Loops all perfectly synced to tempo. On top of this Illorn has also included the 100% royalty free Battle Tool stems he created to perform the scratch loops. These feature long stems of sounds grouped together in mini performable arrangements primed and ready for the scratch DJ to use at will in their next battle set, routine or performance.
Organic Trip Hop & Scratch also comes with a fantastic array of 180 One Shot samples including Synth, Electric Basses, Drum Hits, Instrument Stabs and Scratch Percussion perfect for building your own patterns. At tempos from 70bpm to 140bpm this timeless collection is perfect for Hip Hop, Downtempo.
In detail, expect to find 2.41GB of context with 686 individual Wav files, all rendered with a sample rate of 44.1kHz at 24-bit. This includes 12 Scratch Tool Stems, 67 Drum loops, 38 Fx Loops, 37 Synth Loops, 35 Instrument Loops, 28 Synth Bass Loops, 27 Drum Fx Loops, 16 Vocal Loops, 15 Electric Guitar Loops, 13 Percussion Loops, 12 Hat Loops, 11 Drum Part Loops, 5 Electric Bass Loops, 44 Scratch Drum Loops, 34 Scratch Instrument Loops, 22 Scratch Fx Loops, 20 Scratch Vocal Loops, 16 Scratch Electric Guitar Loops, 16 Scratch Synth Loops, 15 Scratch Drum fx Loops, 12 Scratch Synth Bass Loops, 7 Scratch Perc Loops and 3 Scratch Electric Bass Loops. One shots include 115 Drum Hits, 29 Scratch Perc Hits, 18 Bass Hits, 18 Music Hits. 524 Rex2 Files are also included along with 29 Sampler Patches for Halion, Kontakt, Exs23, Sfz and NNXT
Bringing together all the elements of the Trip Hop sound into one flawless space, Organic Trip Hop & Scratch is certainly an unmissable collection of sounds for any producer interested in bass heavy and atmospheric explorations.
24Bit 44.1KHZ

67 Drum Loops

38 Fx Loops

37 Synth Loops

35 Instrument Loops

28 Synth Bass Loops

27 Drum Fx Loops

16 Vocal Loops

15 Electric Guitar Loops

13 Percussion Loops

12 Hat Loops

11 Drum Part Loops

5 Electric Bass Loops

44 Scratch Drum Loops

34 Scratch Instrument Loops

22 Scratch Fx Loops

20 Scratch Vocal Loops

16 Scratch Electric Guitar Loops

16 Scratch Synth Loops

15 Scratch Drum Fx Loops

12 Scratch Synth Bass Loops

7 Scratch Perc Loops

3 Scratch Electric Bass Loops

12 Scratch Tool Stems

115 Drum Hits

29 Scratch Perc Hits

18 Bass Hits

18 Music Hits

53 Soft Sampler Patches
Demo Preview: