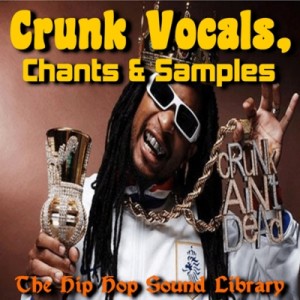 Crunk Vocals Chants & Samples
Size 4.5 Mb 
Get Crunk with These (One Hitter, Quitter) Vocal Samples! Weather You are a Hip Hop Artist getting ready to Battle it out! or a New Up-Coming Music Producer On the Rise! , Virtually No Recording Studio or Sound Library Can Be Left Out with these Samples in their Collection.
So You Wanna HYPE & MOVE THAT CROWD AT YOUR SHOW! OR TEAR THE CLUB UP WITH THAT NEW JAM!?
Well These samples are PERFECT for them Club Banging Hits!
Chants and vocals are known to make beats/instrumentals sound better!
Just take a LISTEN 4 YOURSELF!
We remixed (3) tracks to prove to you the (POWER) of Crunk Vocals, Chants & Samples EVEN IN R&B MUSIC – (The 3 Tracks quoted below are also DOWNLOADABLE for EASIER Listening on Your Desktop/PC)
1rst Track. (Snap Yo Fingers – Lil John Remix)
2nd Track. (Unpredictable – Jamie Foxx Remix)
3rd Track. (An Original R&B Beat We Created in 10 Minutes Using THESE VERY SAMPLES!)
ANNNNNNNNDDDDDD………….As an additional BONUS we added an extra (LIL JOHN CRUNK DRUM KIT) which includes Killer Sound FX!, Crunk Claps, Heavy Kicks, and Much More to Get Your Production READY FOR THE WORLD!
SO DONT GET LEFT OUT IN THE GAME – DOWNLOAD YOUR COPY TODAY!
All Vocal Samples and Loops were recorded by Professional Engineers and are compatible with ANY INSTRUMENT OR PROGRAM THAT READS .WAV Files.
Examples Include:
. Pro Tools
. Cubase
. Reasons
. Fruity Loops
. Roland Samplers
. Yamaha samplers
. Sound Forge
. Sony Acid & Many More!
Our Quality & Committment
All Samples have been Carefully and Professionally recorded in 16BIT/44.1 FORMAT with modern computer technology, giving them the Punch, Presence, and Hard Hitting sound that meets Todays Music Demands. Just put these sounds in your sampler and find out what a lot of Top Producers already know.
Demo Preview: