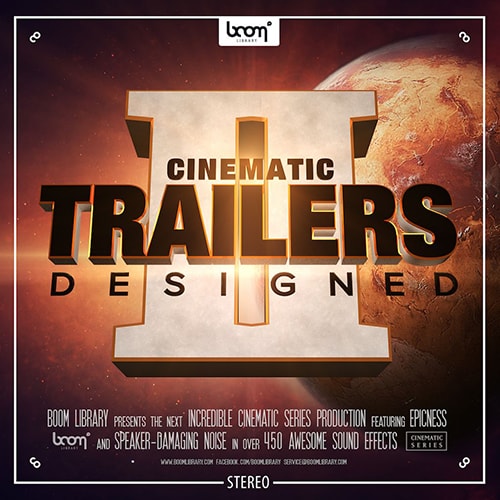 BOOM Library Cinematic Trailers Designed
Size 3.75 Gb 
When is a sound only a sound and at what point does it become a real BOOM Library sound effect? The skill is to carefully design it in a way that transmits the effect of the sound to its listeners. Only then they will feel the impact of the sound and you will be able to blow away your audience from their comfortable seats.
THE NEW TRAILER SOUND FX GOLD STANDARD
CINEMATIC TRAILERS DESIGNED 2 is here to set new standards in terms of trailer sound effects and production elements. Each and every single sound can be considered a masterpiece that has been meticulously crafted by our BOOM Library sound designers during a long and very critical selection process. The goal was to create a professional sound set that is very easy to use, delivers the perfect effect instantly and has a well-balanced amount of "punch" to shine through all other trailer sound sources (music, voice-over, etc.). As a side-effect, it will put a smile on your face when listening to your BOOM-Library-spiced project.
DESIGN PROCESS
The source sounds for this library were all other BOOM Library Construction Kits that we have ever created. Our designers chose their favourite sounds and layered, processed and designed them – always in mind to create a sound effect that surpasses everything they have ever heard.
WHAT YOU GET
CINEMATIC TRAILERS DESIGNED 2 offers you in more tan 120 files a vast selection of more than 450 different high-quality whooshes, hits, cracks, bounces, slams, transitions, rises, basically everything you need to instantly draw attention to your movie, trailer, teaser, presentation, podcast or promotion video.
EASE OF USE
Using those sounds couldn't be easier. Just drag and drop the designed SFX in your personal project, get mind-blowing results instantly and on top of that a big grin on your face.
Choose from more than 450 sounds delivered in 120 files and become part of an impressive sound experience. All files contain extensive metadata to provide you with the fastest and easiest workflow possible. CINEMATIC TRAILERS DESIGNED 2 is here and it's definitely a new sound designer's must-have as it will give you a huge variety of ready-to-use cinematic trailer sounds for every audio moment. Your life as a sound designer will become so much easier!
CINEMATIC TRAILERS DESIGNED 2 is unique. It's the first sound effect library of the Cinematic Series where you can get powerful trailer SFX in Stereo and 5.1 Surround. This package contains both, the Stereo and the Surround version. You will get more than 9GB of fresh sounds in perfect 96kHz/24bit HD audio quality.
EASE OF USE
Why should you spend countless moments of your life panning and placing your sounds in a 5.1 surround environment when you can just drag and drop our BOOM Library surround files into your projects and everything just sounds fantastic? It's really that simple.
TRUE 5.1 SURROUND
During the production process, there was never any up- or downmixing applied. Our sound designers worked really hard on each stereo and surround mix to achieve the maximum surround effect for each and every layered element. Oh, and you will fall in love again with your subwoofer as the LFE channel is just charming 😉
You are highly motivated to beef up your next project with some fresh sounds? Then it's about time to let CINEMATIC TRAILERS DESIGNED 2 be part of your personal sound effect pool. It is the perfect tool kit for every sound designer that counts on professional SFX.
KEY FEATURES
•Library ships in 96kHz/24bit 5.1 surround WAV files
•Track Layout: L•R•C•LFE•Ls•Rs
•Stereo version also included
•Effective workflow: well-grounded Soundminer Metadata
Demo Preview: