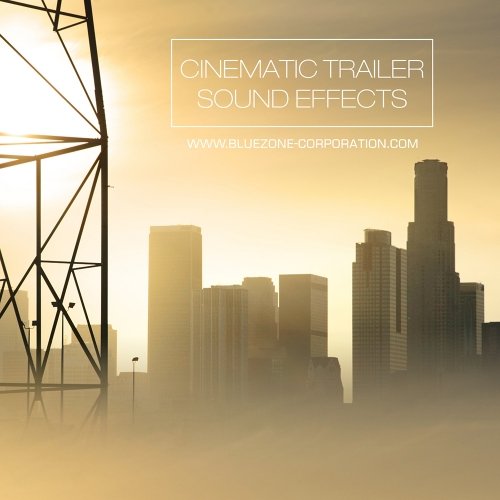 Bluezone Corporation Cinematic Trailer Sound Effects
Size 450 Mb 
Cinematic Trailer Sound Effects' features over 1.07 GB of captivating Cinematic and Trailer sound elements: energetic drones, epic rises, imposing impacts and hits, disturbing soundscapes, whooshes, intense atmospheres, dark synths, sound effects and more. This sample library in AIFF and WAV format provides 158 complex and inspiring sounds ( 158 WAV + 158 AIFF ) in industry-standard 24-bit wav.
'Cinematic Trailer Sound Effects' sound library offers a large choice of styles and various editting possibilities. This sound bank offers 158 state-of-the-art files that are ready to drop in your favorite DAW. All audio elements in this sound library are 100% Royalty-Free and ready to use in your commercial productions.
GINNO LEGASPI REVIEW
" … Bluezone Corporation has been busy releasing libraries center and right for all kinds of different musical genres, but the ambient, experimental, soundscapes for TV, film and game music categories have always been a staple in their catalog. This TV/film/scoring library is a vast resource of audio assets geared for producers looking for components for on-the-fly trailer scoring. This aptly titled sample pack comes in 24-bit WAV and AIFF audio formats, and has over 1 GB of sounds that will cater multitudes of producers in the electronic subgenres. It has a different category of sounds – mostly sustained, yet energetic enough to carry cinematic tracks to new heights. The Whoosh and Hit Impacts folders include certain sounds of what I would call "add-ons" in that they are impactful in nature. The Ambience and Transistions folders are great for accenting moods to any track, while the Sound EFX and Synth Textures fill in something that is missing in your composition. As the two above folder names suggest, these beds are somewhat longer files that can enrich a track by placing them in the background. Like many of Bluezone's libraries, the 158 sounds on Cinematic Trailer SFX are pretty high quality … with plenty of them very usable in many cases. Gotta love the transition and synth texture samples… "
TECHNICAL SPECIFICATIONS :
•Editor : Bluezone
•Reference : BC0226
•Format : WAV + AIFF
•Resolution : 24 Bit / 44.1 kHz
•Channel : Stereo
•License : Royalty free
•Total files : 335
•Total samples : 158 WAV + 158 AIFF
Zippyshare
Demo Preview: