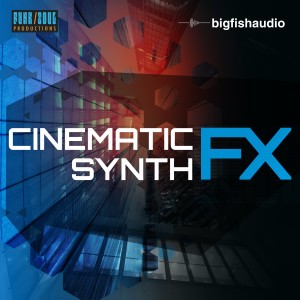 Big Fish Audio Cinematic Synth FX
Size 1.17 Mb 
Cinematic Synth FX is a collection of cutting edge, synth-based sound design elements inspired by the most popular FX currently being used in films, movie trailers, TV shows, ads, and other forms of media.
The library includes over 1.6 GB of original WAV content formatted for use in a licensed version of the Kontakt engine.
The sounds were selected for their dramatic impact and power, making them ideal for high-intensity, action-based cues. From deep, sub-shaking hits to cone-ripping complex risers, CSFX makes it easy to add pro-level sound design elements to your productions at an affordable price.
Cinematic Synth FX also includes a full suite of Kontakt patches that include all sample content mapped by group. For example, you will find all "Cinematic Drones," "Combo Hits," and "Fallers" on their own individual patches.
These Kontakt patches come pre-loaded with a full set of FX and intuitive mapping, making sound design and further FX design as simple and quick as possible.
Details
Cinematic Synth FX Includes:
• Over 780 synth-based sound design elements
• Over 1.6 GB of uncompressed WAV data
Contents:
• Complex Hits
• Deep Hits
• Combo Hits
• Single Hits
• Complex Risers
• Single Risers
• Fallers
• Downers
• Slow-Downs
• Cinematic Drones
• Textures
• Glitch FX
EQUIPMENT LIST:
Cinematic Synth FX was created using the following hardware synths and software:
Hardware:
• Reon Driftbox
• Elektron RYTM
• Elektron A4
• Elektron Octatrack
• Dave Smith Instruments Prophet 12
• Eurorack Modular Synth, including modules by Make Noise, Xaoc Devices, The Harvestman, Modcan, Intellijel and ADDAC Systems.
• Crumar Performer
• Korg Prophecy
• Nord Drum 2
• Teenage Engineering OP-1 and Pocket Operators
• Eventide H9
• Empirical Labs Distressor
Software:
• Ableton Live
• Logic Pro
• Various plug-ins from Audio Damage, Eventide, Universal Audio, Sugar-Bytes, Cableguys, Native Instruments, iZotope, and Twisted Tools
• Generative 2 and Feedback 2
• Expert Sleepers Silent Way
• Max 7
• Max4Live
• Sonic-Lab CosmosF vSaturn
Download:
Zippyshare
Part 1
Part 2
Part 3
Part 4
Part 5
Part 6
Demo previews:
http://www.bigfishaudio.com/detail.html?1;16;1:::::::::::Cinematic%20Synth%20FX:529920