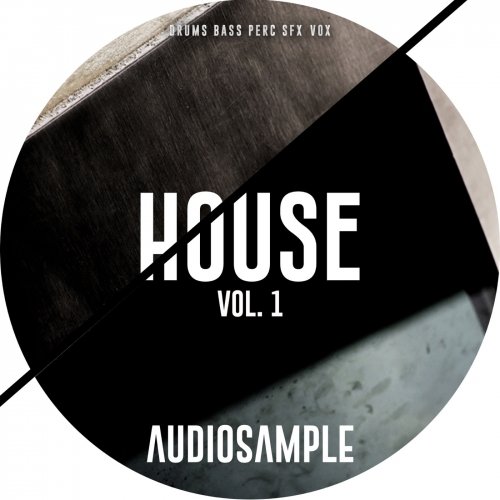 Audiosample House Vol 1
Size 198 Mb 
"House Vol. 1" is the first sample pack for Audiosample, featuring 396,7 MB of Bass, Drum Hits, Drum Loops, EFX, Lead Hits, Music Loops, Vocal and Midi Files you have all to create your house project with house style.
Inside the folders you'll found 4 Complete Project and 189 samples (DRY/WET) in wave format, 11 midi files and 1 demo.
You can use all samples in Apple Logic, Ableton Live, Pro Tools, Cubase and others.
Folders: Bass, Complete Project, Drum Hits (Claps folder, HH folder, Kick folder), Drum Loops, Efx, Lead Hits, Music Loops, Vocal.
Instrument types: Bass, One Shot Clap, One Shot HH, One Shot Kick Solo, Drum, Efx, Lead Synth, Music Loops, Vocal, Demo Song
Specifications – Download contains:
• 20 x 24-bit WAV Bass (10 bass DRY / 10 bass WET at 125 BPM)
• 4 x 24-bit WAV Complete Project (4 audio project in wav format at 125 BPM)
• 20 x 24-bit WAV Drum Hits Claps (10 Claps DRY / • 10 Claps WET at 125 BPM)
• 20 x 24-bit WAV Drum Hits HH (10 Open HH DRY / 10 Open HH WET at 125 BPM)
• 20 x 24-bit WAV Drum Hits Kick (10 Kick DRY / 10 Kick WET at 125 BPM)
• 22 x 24-bit WAV Drum Loops (11 Drum Loops DRY / 11 Drum Loops WET at 125 BPM)
• 10 x 24-bit WAV Efx (10 effect intro-outro)
• 20 x 24-bit WAV Lead Hits (10 Lead Hits DRY / 10 Lead Hits WET at 125 BPM)
• 40 x 24-bit WAV Music Loops (10 Music Loops DRY / 10 Music Loops WET at 125 BPM)
• 11 x 24-bit WAV Vocal
• 2 x 24-bit WAV/MP3 Demo (1 Demo in wav format at 125 BPM / 1 Demo in mp3 format at 125 BPM)
• 11 MIDI FILES
• Download size: 396.7 MB (unzipped)
Demo Preview: