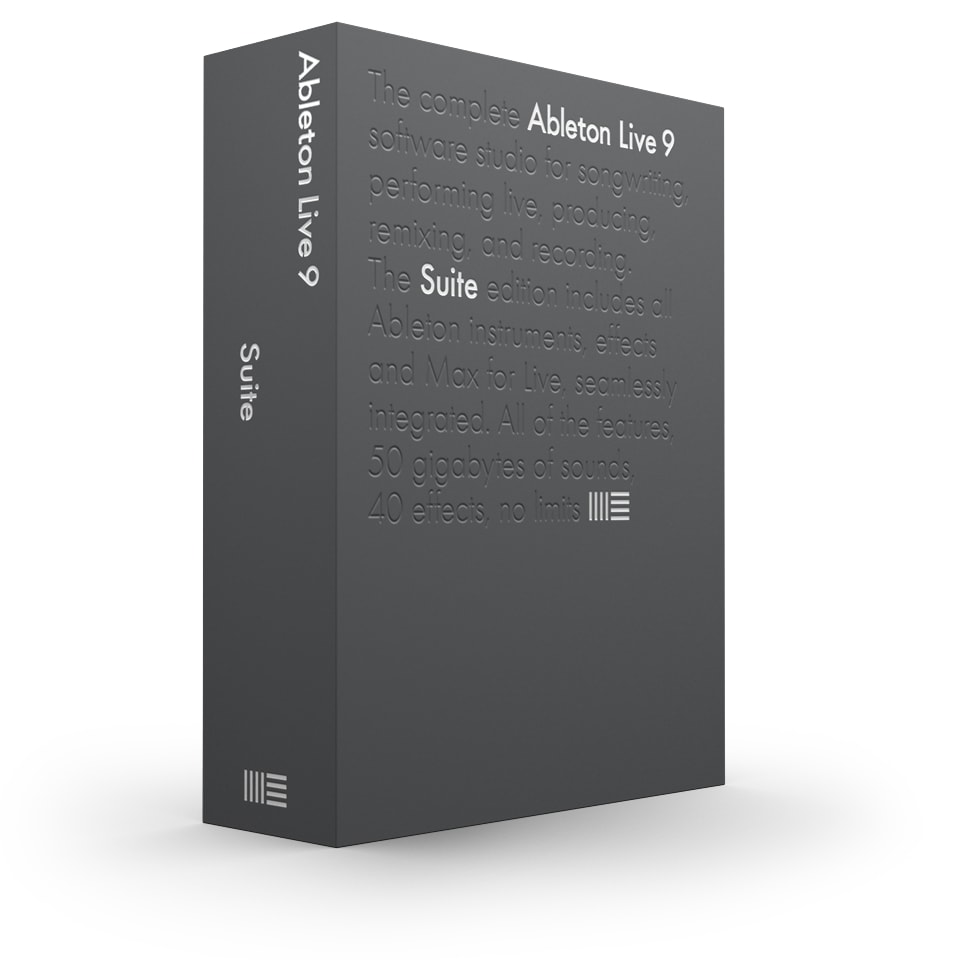 Ableton Live Suite v9.7.2 MacOSX
Size x32 930 Mb // x65 932 Mb
Create, produce and perform. Create ideas, make changes without stopping, and capture everything as you work. If you've used music software before, you're already familiar with one half of Ableton Live. Live's Arrangement View is a familiar working space: time moves from center to right, while tracks are stacked vertically.
But Live also features the revolutionary Session View: a unique sketchpad for improvising, playing and performing with musical ideas, without the constraints of the timeline. Freely and independently start and stop any number of audio or MIDI loops – everything stays in sync. Almost everything in Live works in real-time – add, reorder or remove devices, play with Live's flexible track routing and more – all without interrupting your creative flow.
The instruments and sounds you need to make music.
Live comes with a collection of instruments, sounds, kits and loops for creating any kind of music.
Effects, processing and tweaking.
For getting your sound right (or wrong in just the way you like it) Live has a full range of effects from corrective to creative.
Work with instruments and effects the way you want to.
Live provides easy and flexible ways for combining and integrating all kinds of devices.
Tools that understand audio, instead of just playing it.
Live can convert harmony, melody and beats from recordings to MIDI.
Software you can play.
Live is even more powerful when it's hands-on. And it works with instruments and controllers of all kinds.
Push.
An instrument for song creation that fits in your backpack with your laptop.
Whatever you want it to be.
Get a wealth of new devices, and the ability to make your own, with Max for Live – now included in Suite.
What's new in 9.7.2:
Improvements and feature changes:
•Added support for the Arturia MiniLab MkII control surface. In order for the script to function correctly, it is recommended to update the Minilab MkII Firmware to the latest version available.
Bugfixes:
•If a dropdown or context menu was open in Live, pressing CMD+Shift+- on a Mac OS would cause Live to crash.
•The GUI would appear laggy when zooming in audio tracks and moving the zooming hotspot on Windows if the files were being streamed from a hard drive.
•Fixed a bug that caused Live to crash when opening a context menu in a device chain containing no instruments.
•Fixed a bug which prevented changing the text color in Drum Rack return chains to white when the chain's color was dark.
•Fixed a graphical glitch that occurred when hovering over automation segments drawn on top of a waveform. The glitch was visible in Detail View (in both the Arrangement and Session View), and would only appear in automation segments not covering the full track height.
•Disabled audio and MIDI meters were not correctly shown as grayed out in the routing choosers
•When Live's authorization was not successful, the dialog box could erroneously confirm it as successful.
•Fixed a bug which prevented auto updates from working on Windows 10.
Changes for Push:
•Fixed a bug that caused Live to crash when moving tracks while Push 2 was connected, under certain circumstances.
•When selecting a track containing a Simpler which was playing back a sample, the playhead would sometimes not be displayed.
•Live would crash if a Drum Rack clip in the last scene was duplicated from Push.
•Live would crash when importing a greater number of MIDI files to the Arrangement than the amount of available MIDI tracks, if Push 2 was connected.
•When routing via Push 2, the display process might allocate an unusual amount of memory.
Openload