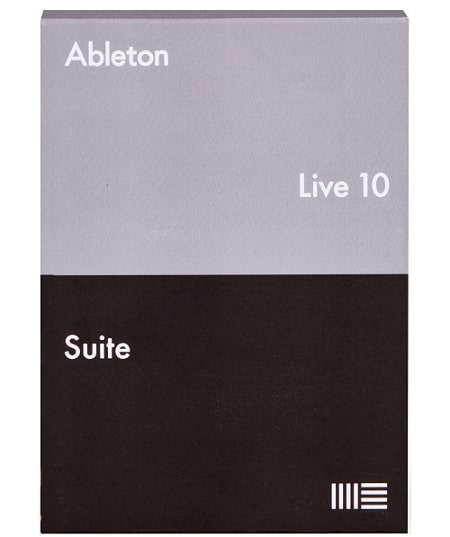 Ableton Live Suite 10.1.3 [Windows]
Size 1.4 Gb
Ableton Live Suite 10.1.3
Create bolder sounds with Live's new devices. Stay in the flow with a multitude of workflow improvements. Do even more away from the computer with Push. Build your sound with a curated library. And get the unlimited potential of Max for Live, seamlessly built in.
Create with new devices
Meet Wavetable, Echo, Drum Buss and Pedal: new devices that mean colorful new sounds are possible with Live's instruments and effects.
Wavetable
Immediately playable, infinitely capable, Wavetable is a new synthesizer built by Ableton. Shape, stretch and morph sounds using wavetables derived from analog synths, and a range of other instruments and sounds. Start sculpting sounds right away—even without a deep knowledge of synthesis—or explore its rich palette and potential through an intuitive interface.
Echo
Echo brings together the sound of classic analog and digital hardware delays in a single device—your new go-to delay. Drive and shape sounds with its analog-modeled filters, turn up the noise and wobble for vintage imperfections, or add modulation and reverb to create diffuse soundscapes, wailing feedback and more.
Drum Buss
Drum Buss is a one-stop workstation for drums, capable of adding subtle character or bending and breaking drums to your will. Add warmth and distortion with drive and crunch, take control of dynamics with compression and transient shaping, dial in and tune boom and control bass decay with the dedicated low end section.
Pedal
With separate circuit-level models of overdrive, distortion and fuzz guitar pedals, Pedal brings the character of analog stomp boxes to Live. The effect goes all the way from subtle to reckless—it excels at warming up vocals and other instruments, driving synth sounds or completely smashing drums. And of course, it sounds great with guitars.
Ableton Live Suite 10.1.3 Release Notes
New features and improvements
Added support for the Novation Launchpad X & Launchpad Mini [MK3] control surfaces
10.1.2 Release Notes
OS Support
Live now supports macOS Catalina (10.15).
Automation
When dragging, stretching or skewing automation, or when changing the curve of a segment, pressing the ESC key now resets the automation to its original state.
The Toggle Automation/Modulation buttons now appear grayed out for unwarped clips.
The global "Snap Automation To Grid" option is now ignored when Draw Mode is enabled, so the quantization always matches the visible grid.
A "No more automation events could be removed" message now appears in the Status Bar when performing the "Simplify Automation" command on an envelope has no effect.
Interface Improvements
Live now supports Home, End, Page Up, and Page Down key interactions in chooser controls and context menus. Home and End keys move the selection to the first and last options respectively. Page Up and Page Down keys move the selection by the size of the page, or by 25 entries if the chooser control is collapsed.
The metronome's Rhythm setting is now saved in the Live Set.
The "Freeze Track" command is now available in the context menu of automation lanes.
Live's browser now starts searching after entering a single Chinese character.
Adding or removing scenes in a Live Set with many scenes is now significantly faster.
Added support for emoji characters in all text fields on the following systems:

Windows 10 1803 and later
macOS 10.11.6 and later

The Preferences dialog window is properly centered when Live's zoom level is not at 100%.
Device Improvements
In the Multiband Dynamics device, the "Shift" modifier is now used to fine-tune the bands, and the "CMD" (Mac) / "CTRL" (Win) modifier is used to adjust all bands simultaneously.
Text in the Redux device is now correctly displayed.
Made some minor refinements to the Channel EQ device's UI.
Control Surfaces
Added support for the Akai Professional Force, MPC X, and MPC Live.
Every Push 2 user will get a firmware update to v.1.0.64 if their Push firmware is older. This firmware version implements a fast SysEx that allows setting any RGB LED to any 16 bit-color, independent from the 128-entry palette.
VST3
Added support for the IInfoListener interface in VST3 plug-ins. Supported properties include Live's track name, track index and track color. Certain plug-ins will now show Live's track names in their Mixer section.
When running VST3 plug-ins in HiDPI mode, it is now possible to disable scaling their GUIs via a "Auto-Scale Plug-in Window" context menu entry. This entry appears in context menus of plug-in devices in the browser, and in the title bar of plug-in devices in the Device View.
Video
When selecting FLAC as the File Type in the Export Audio/Video dialog, video export is now disabled. AIFF or WAV must be selected to export video with sound. This is consistent with the MP3 export behavior.
Translations
Updated some info text translations in German, Spanish, French, Italian and Japanese.
Max for Live Improvements
Updated the bundled Max build to version 8.1.0.
Live will no longer load Max versions older than Max 8.1. When an external Max version older than 8.1 is selected, Live will fall back to the bundled version. Users cannot select Max versions older than 8.1 in the Preferences.
Changes since Max 8.0.4:
New Features:
live.comment: new object – text color follows live interface colors
live.toggle/live.text: "Enter" key inverts value (as the native Live UI does)
live.arrows: parameter-enabled (off by default)
live.text: added blinktime attr and scheduling for passing bangs while in button mode
Max For Live: audio fades in/out when editing devices
Max Console: Copy Selected Text option in contextual menu (allows copying when in Live)
thispatcher: can get path of .amxd
Fixed Bugs:
amxd~: fixed a crash on unfreeze of device (parameter restore issues)
JS: require works in frozen Max For Live device
jweb: works in Max for Live
live.* UI objects: improved how different mouse drag speeds changes values
live.* UI objects: added improvements to make value output consistent
live.arrows: fixed presentation issues
live.arrows: rename idle -> off in enum
live.banks window: added fixes and improvements
live.banks window: added some UI improvements
live.dial: correctly draws modulation ring
live.drop: disabled 'type' in inspector
live.drop: fixed issues with recalling large files
live.observer: object with property argument observes after id is sent
live.path: outputs properly when in a subpatcher that is in a poly~
live.text: fixed a crash with changing picture attributes
loadbang / freebang / patcher load: general improvements
macOS: 10.15 Catalina Support
Max for Live Device: border color follows Live theme
Max For Live jit.pwindow: fixed issues with creation in Live (fixes some LFO display issues)
Max For Live jit.vcr: write works in the MFL editor
Max For Live midiin/midiout: fixed CPU spikes when two midiin/midiout devices are in a Live set
Max For Live parameters: fixed some issues related to parameters being loaded in abstractions
Max for Live phasor~: @lock 1 does not degrade
Max For Live SR switching: fixed issues with speedlim, pipe, midiout, LFO etc, when switching SR in Live
Max for Live: fixed a crash when editing a device while a large number of files are open
Max For Live: fixed a crash when freeing cached genpatcher
Max For Live: fixed crashing of some Max 7 .amxds (parameter cloning issue)
Max for Live: fixed errors with floating point arguments like in sprintf
Max For Live: removed 2 pixel border in device view
Parameter window: fixes and improvements
Parameters: fixed a crash when automating a parameter via another parameter
Fixed a crash that occurred when undoing/redoing adding Max devices with routing choosers.
Fixed a crash that occurred when undoing/redoing adding Max devices with particular routing settings.
Fixed a crash that occurred when undoing adding a default Max instrument or a Rack containing a Max instrument.
Ableton Live Suite 10.1.3