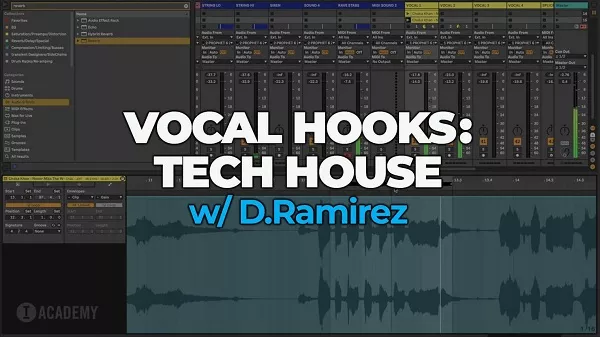 Vocal Hooks: Tech House w/ D.Ramirez TUTORIAL
Vocals are one of the most important elements of any music, as they are often where the epicentre of expression in a track is located. When it comes to electronic music, this is perhaps even more true, as they provide the human connection to sounds that could otherwise feel cold and lifeless. This philosophy pertains strongly to the music of D.Ramirez, the magisterial DJ and producer from Sheffield who brings his vocal hook prowess to an action-packed series of courses that cover seven electronic genres. In this course, he dives deep into vocal hooks within the Tech House genre.
D.Ramirez is a bona fide star whose music has taken him to every corner of the globe in a sparkling career that has seen him operating at full throttle for over twenty years. He's manned the ones and twos in some the worlds' best clubs from Space & Cream Ibiza, Womb in Tokyo and Avalon in LA; and dropped iconic sets at festivals like Glastonbury, Global Gathering and Australia Day in Sydney. Initially known for almost single-handedly coining the famed electrohouse sound, D.Ramirez has moved seamlessly into deep house and techno stylings in the last decade, and his ability to flip an acapella into a chart-topping vocal are unparalleled.
In this course, D.Ramirez teaches you everything you need to know to find and deploy acapellas to create earworm vocal hooks in your electronic productions. You'll learn the ins and outs of modern sampling techniques, using content platforms like YouTube as well as royalty-free sample subscription services like Splice. Never one to do things by halves, D.Ramirez breaks down the finer points of arrangement, editing and effects processing.
D.Ramirez production chops have led to him collecting accolades from the likes of DJ Magazine (best producer and best remix), iDJ (player of the year) and even an Ivor Novello nomination for his remix of Bodyrox 'Yeah Yeah'. He's even been on Top of the Pops! All of these accolades only confirm the high regard D.Ramirez is held in in the dance music community, which makes him the ideal instructor for this unmissable vocal hooks masterclass. Whether you want to know how to find the best acapellas out there today, or how to write, record and refine original vocals, this course is the one for you!
Chapter 0: Tech House Intro
D.Ramirez tees up this lesson on finding tech house vocal hooks on YouTube and recording, processing and adding them to your arrangement.
Chapter 1: YouTube Acapellas
Countless artists in today's era sample from YouTube, and D.Ramirez explores the source acapellas from some of his favourite tracks.
Chapter 2: Search Keywords
The search function on YouTube is crucial to finding acapellas, so D.Ramirez takes you through a list of specialised tech house keywords.
Chapter 3: Sourcing and Sampling
D.Ramirez auditions YouTube acapellas based on lyrical content and tone, and tours a popular application for recording computer audio.
Chapter 4: Editing Samples in Ableton
Building on a rough tech house arrangement, D.Ramirez uses time-stretching and pitch-shifting to find vocal chops to suit the track.
Chapter 5: Further Editing
After building his pool of vocal chops, D.Ramirez freezes and flattens them into small audio clips that can be used in a drum rack.
Chapter 6: Building the Arrangement
D.Ramirez titles the vocal chops, and then works his way through a vocal arrangement by assembling and placing them where they work best.